Four New Yorkers sue over getting kicked off plane over Muslim 'appearance'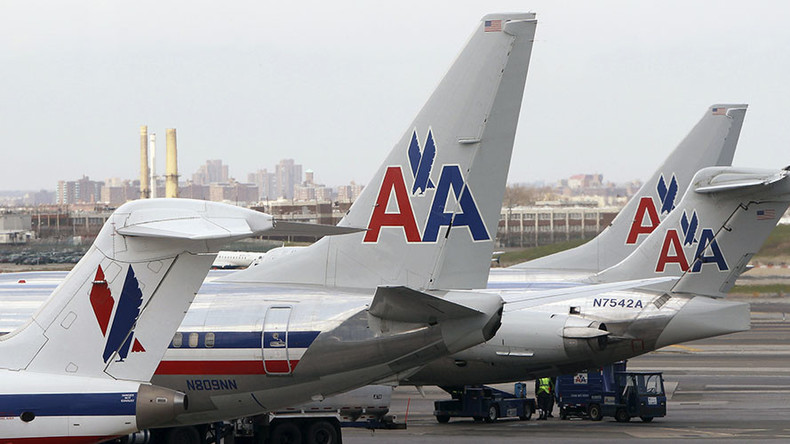 Two Bangladeshis, a Punjabi and an Arab have filed a federal lawsuit seeking $9 million in damages after American Airlines asked them to leave a Toronto-to-New York flight because their appearances "made the captain uneasy."
Four Brighton Beach residents were among the six long-time friends who spent several days in Toronto, Canada last December. On their way back to Brooklyn, they changed reservations and switched seats on board the plane so they could fly together. Several minutes later, however, the crew asked them to leave.
The crew said the men's appearances made them uncomfortable, while passengers clutched their children and made racist comments, the four friends told New York Daily News. Their two remaining friends, a Mexican and a Pakistani, were allowed to remain on board.
Shan Anand, Faimul Alam and two others identified only by initials – M.K. and W.H. – are now seeking $1 million each in compensation and $5 million in punitive damages. American Airlines has been named as the defendant, along with Republic Airlines and American Eagle, who operated the Toronto-to-New York flight.
"They didn't cite any basis of inappropriate or boisterous behavior, there situation wasn't a security issue or threat," said Tahanie Aboushi, the lawyer representing the group. "It's my position that the reason they were taken off the flight is because this is blatant discrimination."
Alam, M.K. and W.H. are all Muslim. Alam has a dark complexion, while W.H. has a beard. Anand, who works as a personal banker, is a Sikh and wears a turban.
W.H. and M.K. had originally booked the afternoon flight, upgrading to business class after Anand and Alam switched their reservations to the same plane. At that point, a flight attendant came by and asked them to leave.
"I thought it was an evacuation or something, so I didn't think nothing of it, but then she told me to take my bags and when I went back into the plane I saw I was the only one standing," said W.H., a fashion designer.
Meanwhile, the passengers around Alam and Anand started making racist comments and holding their children "as if something was going to happen," the lawsuit charged.
The four men were told "there were inconsistencies of our behavior traveling as a group because two of us upgraded and two of us didn't," W.H. told the Daily News.
"They were told to 'Just be peaceful' making it seem like they were a threat, making other passengers uncomfortable and wanting to get off the flight," said Aboushi.
A spokesman for American Airlines told the Daily News they could not comment because they had yet to receive the lawsuit.
You can share this story on social media: