2 Arab-Israelis booted from Greek plane after Jewish passengers cry 'terrorists'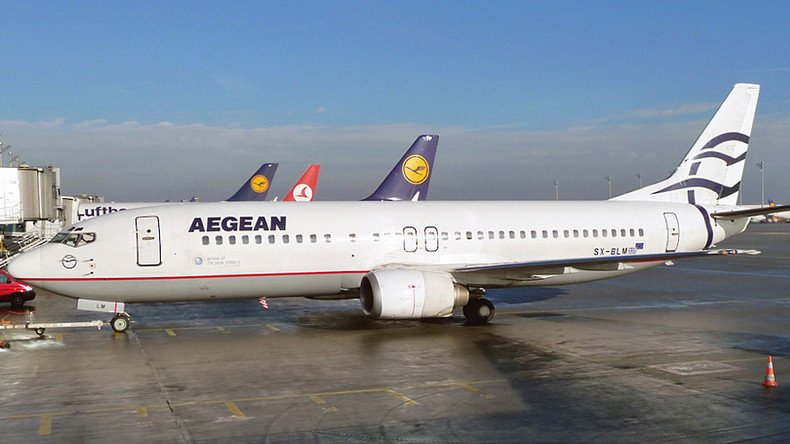 Greek company Aegean Airlines says it was forced to make two Arab-Israelis disembark from a flight, after two Jewish passengers accused them of being terrorists and incited other passengers to demand their departure.
An argument broke out between the Arab and Jewish men on Monday's return of a tourist flight to Tel Aviv from Athens, and lasted for an hour. Aegean said that their crew could not follow the row in Hebrew, but that the Jewish men appealed "very vocally and persistently" to conduct additional security checks on the Arabs.
The background check produced no red flags, and the crew returned, attempting to get the parties to simmer down, with the plane running over an hour behind schedule.
"Unfortunately by that time, due to the delay, a much larger group of passengers were reacting despite the assurances given by the crew about the two passengers. So with the agreement of the two [Arab] Israeli passengers that were affected, for which we are very thankful, we offered them overnight stay and transport the next day, we offloaded their luggage. We also offered any other passenger of course the possibility to disembark in case they did not feel secure," said a statement from Aegean.
Even with their adversaries off the plane, the Jewish Israelis continued to demand the detention of the Arabs until they were warned they would also be forced off the plane, without a replacement ticket.
The two men settled down and the flight arrived in Tel Aviv without incident, with the Arab Israeli men following them the next day.
Aegean admitted that the Jewish accusers may have been "racially profiling" the Arab men, and labeled the incident "very unfortunate."
But the left-wing Knesset party Meretz said it would not let it slide, calling for a parliamentary committee meeting.
"I can't be that a commercial company, which has signed aviation agreements with Israel, allows itself to disembark passengers based on their physical appearance at the demands of other passengers," said deputy Michal Rozin.
Amnesty International's Israeli office acknowledged tension following a string of lone wolf attacks by Palestinians on Jews, but blamed the Israeli government for fostering a climate of paranoia.
"People should not be surprised by such shameful acts when Prime Minister Benjamin Netanyahu stands at the forefront of incitement and the racist narrative against an entire sector of society," said Yonatan Gher, who heads the human rights group in Israel.
You can share this story on social media: