'Hate crime evidence': Sikh advocacy group criticizes LA authorities over bus driver attack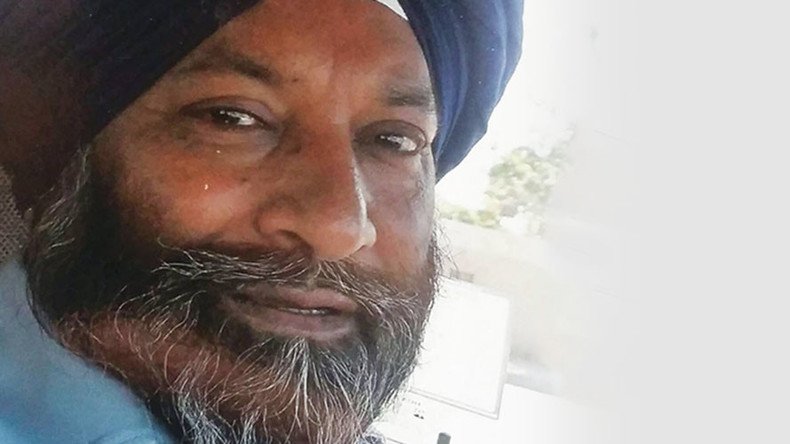 A Sikh advocacy group has spoken out against Los Angeles law enforcement after a bus driver wearing a turban was called a "terrorist" and "suicide bomber" by a passenger. The coalition says the authorities should be treating the incident as a hate crime.
Balwinder Jit Singh, who has a beard and wears a turban, had just stopped the Metro bus he was driving in Inglewood when the 33-year-old attacker boarded the bus and began calling Singh a "terrorist" and a "suicide bomber." He also alleged that Singh, 56, had hijacked the bus.
The passenger later exited the bus at a stop, but immediately re-boarded and began beating Singh. The father of five was left with a black eye, bruised jaw, and swollen face. He continues to experience pain and blurred vision, according to the Sikh Coalition.
"Psychologically and physically, it was traumatic," Sikh Coalition senior staff attorney Gurjot Kaur told AP. "It's very frightening to be attacked in that way."
But despite the obvious racial element to the attack, Singh's lawyers argue that local authorities are not treating the incident seriously and are only considering misdemeanor charges.
"We cannot fight hate if law enforcement agencies ignore or fail to recognize hate crimes," Kaur said, as quoted by the Los Angeles Times.
"The suspect came onto the bus and immediately saw Mr. Singh's turban and beard...and started shouting racial slurs at him," Kaur continued. "That's some of the clearest evidence that we've ever seen in a hate crime case."
The assailant, whose name has not been released, was arrested on an assault charge the day after the incident. However, Los Angeles County Sheriff's Department spokeswoman Nicole Nishida said the sergeant handling the case indicated that Singh had not initially mentioned the attacker's statements.
Sheriff's Capt. Karl Schow said the agency began investigating hate crime allegations after receiving additional information. He said the attacker's statements may not have been reported due to Singh being under stress or struggling with English.
"We do investigate hate crimes. We take them very seriously," Schow told AP. "We're absolutely doubling back and going to add that to the investigation," he said.
But according to the bus driver's lawyer, Singh speaks conversational English and did report the attacker's statements to police.
"Initially, I don't believe they did enough," Kaur stated. "I believe once racial slurs were brought to their attention, they should have labeled it as a hate crime," the lawyer added.
A workplace-incident report provided to AP reportedly shows that Singh told his employer on the day of the attack that he had been called a terrorist by a passenger. He waited until he had contacted the Sikh Coalition before going public about the incident.
"I know that sharing my story sheds further light on the bigotry and hatred faced by communities across the nation," Singh said. "These crimes cannot be tolerated."
According to the Los Angeles County Sheriff's Office, the attacker – currently in custody with the Los Angeles Police Department on a different criminal case – potentially faces only misdemeanor assault charges for attacking Singh.
It comes just one month after the White House convened meetings of Muslim and Sikh leaders to address a spike in hate crimes against gurdwaras (Sikh houses of worship) and individuals in the wake of Islamic State (IS, formerly ISIS/ISIL) attacks in Paris and San Bernardino.
The Sikh Coalition says the organization has processed over three times the amount of hate-related cases in the past month than in previous years combined.
Singh is not the only member of California's Sikh community to be targeted in recent days. A 68-year-old Sikh man was brutally murdered at a Fresno convenience story on New Year's Day, according to the The Fresno Bee. In early December, a Sikh house of worship was vandalized in Orange County. Police opened a hate crimes investigation into the vandalism after its members found expletive-laced graffiti referencing Islam and IS, The New York Times reported. The incident happened shortly after the San Bernardino terror attack.
You can share this story on social media: