'Birthplace of innovation': Astronaut tells RT how NASA's Space Apps Challenge can change science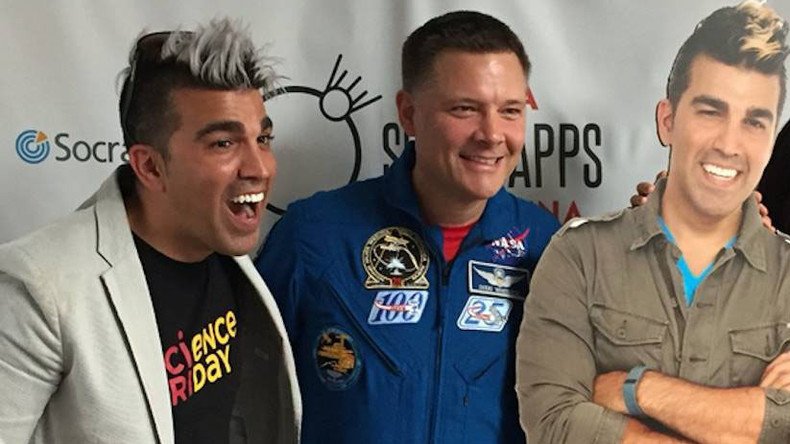 NASA's annual Space Apps Challenge has kicked off in Pasadena, California, with more than a hundred volunteers set to compete in 26 categories over 48 hours, globally, with improvised teams seeking viable solutions to current and future space challenges.
RT's Nicholas Hankoff spoke to Douglas "Wheels" Wheelock, an active NASA astronaut, about the importance of such brainstorming events to the future of space science, and listened to accounts of Wheelock's two missions at the International Space Station (ISS).
Although a mission to Mars may still seem like a distant prospect, Wheelock said he hopes that the space enthusiasts gathering in Pasadena can bring Mars travel closer with new approaches to space travel.
Wheelock thinks that events like the one in California can serve as a breeding ground for all kinds of innovations capable of moving human space exploration ahead.
"For us at NASA, all these revolutionary ideas that we see coming to light, like rockets landing on a barge in the middle of the Atlantic Ocean after just launching some kind of satellite into orbit, things like… people walking on the Moon, people flying on a spaceship, a big rocket they we're building to send people out to Mars and maybe back to the Moon: all these things begin at the ideas stages," he stressed, adding that platforms such as the Space Apps Challenge ensure that such ideas don't fall by the wayside.
"We want to capture those ideas, nurture them, get those people and those ideas in the right collaborative groups and change the world," said Wheelock, explaining that by organizing the three-day space science camp, "we create a space, globally, where those ideas can take root and be nurtured."
"It's sort of the birthplace of innovation," he said, while highlighting the importance of the Challenge to NASA's space ventures, saying it gives the space agency the opportunity to "take this innovation to the next level and, eventually, see it revolutionize something that we know about a particular science or technology."
Commenting on some of the projects being developed in this year's competition, Wheelock mentioned one initiative that could make space travelers' jobs safer and easier.
"One group is developing a sensor that can go into the suits that we wear on Mars, and actually it'd be a portable sensor that you can put into a pocket or something, even on a shirt that you're wearing inside of a pressurized chamber," the astronaut explained. The devices would constantly monitor the air quality in the astronauts' suits, giving them early warning if something goes wrong, for example, in case of a leak.
Wheelock explained how he thought the concept could be applied in the space station as well, allowing the astronauts to "fly sensors through and check for leaks in the hall or check for gases, leaking into the habitable spaces."
The annual Space Apps Challenge is an incubator innovation program organized by NASA. It was first held in April of 2012 as a so-called "hackathon." Over the next four years, it outgrew its national borders and turned into an international competition involving thousands of people all over the globe who brainstorm ideas within a strict 48 hours timeframe each year. The 5th Space Apps Challenge runs from April 22 to 24, with its main site in Pasadena. Some 20,000 people from 72 countries in 193 locations are taking part in the competition this year, according to Deborah Diazo, NASA's Chief Technology Officer for IT, who initially came up with the its idea.
"I'm watching science fiction turn into fact, and this is what NASA is really about," said NASA's Chief Information Officer, Renee Wynn, putting the idea of the challenge in a nutshell.
'You can't simulate euphoric feeling of being in space'
Wheelock shared his own space travel experiences, which he says cannot be completely replicated during training on Earth.
"It's certainly a unique feeling, and it's not really anything you can prepare for in a simulation," Wheelock said.
"Everything's floating around. And so your tools that you're trying to work with floating, the food you're trying to eat is floating, you're floating, your internal organs are floating, trying to figure out which way is up and which is down," he elaborated, describing his feelings in space as "euphoric."
Although, the body eventually adjusts to the unusual environment after a short period of inevitable sickness and nausea, the "Superman or Spiderman" feeling remains till the very end of the mission, he said. "Once you're floating around, it's pretty cool, I feel like I was born there," Wheelock recalled.
The NASA astronaut has flown into orbit twice – first as a member of a mission to the ISS in 2007 and then in 2010, when he served as the space station's commander for half of the mission after arriving on a Russian Soyuz rocket. At present, he is training for a new space mission and engaged in preparing would-be astronauts, including some in Star City, Russia.
You can share this story on social media: