Expandable Martian 'BEAM' pod attached to ISS for test run (VIDEO)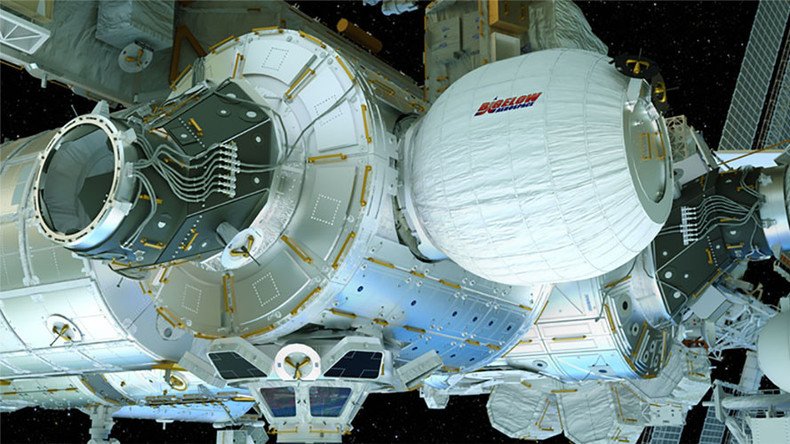 NASA has installed a new expandable extension to the International Space Station, designed to help astronauts on deep space missions.
Approximately 13 feet long and 10.5 feet in diameter, the inflatable extension called 'BEAM' (meaning, Bigelow Expandable Activity Module) was installed on Saturday.
When expanded next month it will resemble something like Matt Damon's potato green house in 'The Martian'.
The hope is to create expandable habitats for deeper space exploration in the future, including Mars - although for now, the 'Tranquility' module is experimental only.
READ MORE: NASA: Martian atmosphere stripped by extreme solar wind erosion (VIDEO)
"The space station provides an ideal laboratory to test the BEAM expandable module in the harsh environment where it will have to operate," said Julie Robinson, NASA's chief scientist for the International Space Station.
Though designed for crewmembers to live and work in, the ISS crew will focus on monitoring the module over a two-year test period. This means entering the pod-like capsule just three or four times a year to assess its structural condition and collect temperature, pressure and radiation data.
After BEAM's two-year stint is complete, the module will be discarded from the ISS to burn up on re-entry into Earth's atmosphere.
Made by Bigelow Aerospace of Las Vegas, BEAM was flown into space on SpaceX Dragon on Friday night and was attached to the ISS on Saturday. However, the module will be left as it is in situ for a few weeks before crewmembers expand it in late May.
You can share this story on social media: