NYC mayor orders investigation into purge of Democratic voter roll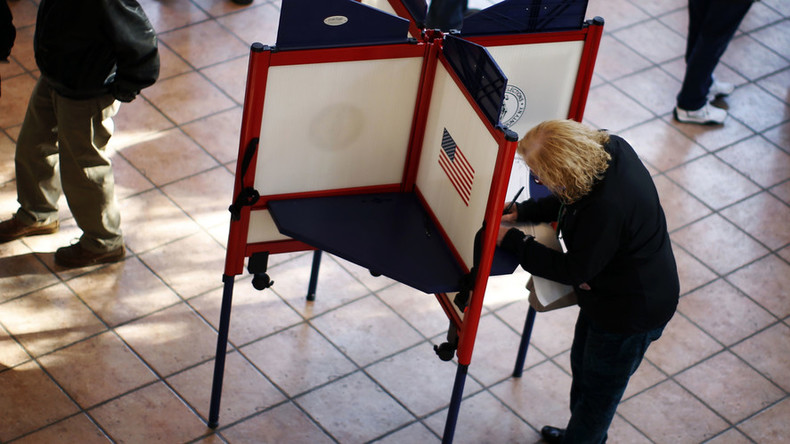 New York City Mayor Bill de Blasio has asked the city's board of elections for an explanation as to why tens of thousands of registered Democrats, many of whom live in Brooklyn, have been purged from voting rolls since last fall.
On Tuesday, as New Yorkers head to the polls to vote in the state's presidential primary, de Blasio said he is surprised at the decline in number of registered Democratic voters in the city, especially the dramatic drop in Brooklyn. The New York City Board of Elections (BOE) said Monday that 126,000 Brooklyn Democrats were removed from voting rolls.
"This number surprises me," said de Blasio, as reported by WNYC. "I admit that Brooklyn has had a lot of transient population – that's obvious. Lot of people moving in, lot of people moving out. That might account for some of it. But I'm confused since so many people have moved in, that the number would move that much in the negative direction."
According to WNYC, BOE Executive Director Michael Ryan said he had been contacted by the mayor's office about de Blasio's concerns. Ryan said he told the mayor's office that "Brooklyn was a little behind with their maintenance lists," and that other city boroughs had updated their lists more promptly.
my roomie got denied at our polling spot even tho she had her letter but yeah it's just bc she's pro-bernie i'm sure https://t.co/g8Xb0ej8w7

— wanda maximoff (@sadwhitegrrrl) April 19, 2016
New York City boroughs can remove voters from registered party lists at certain times of the year as long as it does not fall within a 90-day period before an election date.
Ryan said Brooklyn's steep drop can be explained simply, in that "when there is an election event, work stops getting done."
The removal of Brooklyn's 126,000 Democrats included 12,000 who moved out of the borough, 44,000 who were moved to 'inactive' voter status after years of not voting, and 70.000 dropped from the inactive list.
On Monday, WNYC originally reported that more than 60,000 registered city Democrats were dropped from the polls between November 2015 and April 2016.
New York, a stronghold for the Democratic Party, is holding its presidential primary on Tuesday. Polls show Brooklyn native Bernie Sanders is trailing rival Hillary Clinton in the state, which Clinton represented in the US Senate from 2001 to 2009.
There are more than 5 million total active registered Democrats in New York State, as well as more than 500,000 inactive. Registered, active Republicans in the state number about 2.5 million, with more than 175,000 inactive, according to the state board of elections. New York voters registered as independents cannot vote in the state's primary.
This week, several New Yorkers sued the state claiming their voter registration information was changed without their knowledge. The group Election Justice USA filed the lawsuit on Monday.
"We were seeing an alarming number of voter affiliations changed without people's knowledge or consent, people who were registered listed as not registered," said Shyla Nelson, a spokeswoman for Election Justice USA, according to Gothamist.