'Catastrophe waiting to happen': Sanders wants to close nuclear plant 25 mi. from NYC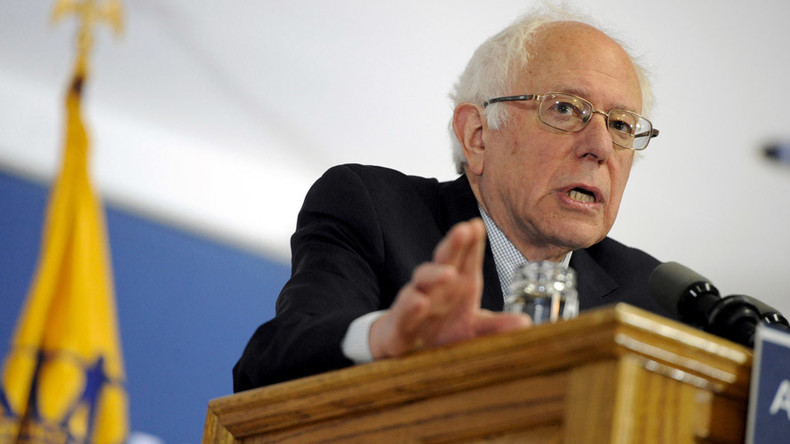 The continued operation of the "decaying" 40-year-old Indian Point nuclear power plant up the Hudson River from New York City "makes no sense," said Democratic presidential candidate Bernie Sanders two weeks before the New York State presidential primary.
The two, 1970s-era Indian Point nuclear reactors, situated about 25 miles (40 km) north of New York City and within 50 miles of 20 million residents, have come under increased scrutiny of late as the facility has experienced nine occurrences of technical problems in the past year or so. Four of them were serious enough to shut down the plant, RT's Alexey Yaroshevsky reported in February.
A tritium water leak in recent months sparked new concerns over the plant, which leading politicians like New York Governor Andrew Cuomo, and now US Senator Bernie Sanders, have said should be closed.
"I am very concerned that the Indian Power nuclear power reactor is more than ever before a catastrophe waiting to happen," Sanders said Monday in a statement. "In my view, we cannot sit idly by and hope that the unthinkable will never happen. We must take action to shut this plant down in a safe and responsible way. It makes no sense to me to continue to operate a decaying nuclear reactor within 25 miles of New York City where nearly 10 million people live."
Sanders is an advocate of ending US reliance on nuclear and fossil fuel power in favor of renewable sources of energy. Nuclear power supplies about 20 percent of US electrical generation, according to the Nuclear Energy Institute.
"Even in a perfect world where energy companies didn't make mistakes, nuclear power is and always has been a dangerous idea because there is no good way to store nuclear waste," Sanders said. "That is why the United States must lead the world in transforming our energy system away from nuclear power and fossil fuels."
Hillary Clinton, Sanders' opponent for the Democratic presidential nomination, has also criticized Indian Point, especially while she was US senator for New York. Her home, in Chappaqua, New York, is within 20 miles of Indian Point. Clinton, though, has never called for the plant's shutdown.
Indian Point produces about 25 percent of electricity used in New York City and nearby Westchester County, according to Entergy, the owner of the plant. The first reactor at Indian Point went into service in 1962, but was decommissioned in 1974 because the core cooling system no longer met regulatory requirements. The site includes two operating Westinghouse pressurized water reactors – Indian Point 2 and Indian Point 3, both installed in the 1970s. The facility's initial 40-year license expired in December 2015 but the US Nuclear Regulatory Commission issued Entergy a temporary extension pending final approval.
In February, crews preparing one of the Indian Point reactors for refueling accidentally spilled some of the water containing the radioactive hydrogen isotope tritium, causing a massive radiation spike in groundwater monitoring wells. Gov. Cuomo said the "unacceptable" groundwater leak at three monitoring wells involved "alarming levels of radioactivity," triggering a state investigation. One of the three wells in question, according to Cuomo, had "radioactivity increasing nearly 65,000 percent."
The contamination did not spread off-site and did not pose a public health threat, Entergy said.
Last month, it was revealed that bird feces piling up on power lines at Indian Point was responsible for a plant shutdown in December.
In May 2015, a transformer exploded at Indian Point, causing the plant to shut down amid fire and billowing smoke. The explosion also caused transformer fluid to leak into the Hudson River.
Indian Point has a history of transformer accidents and various leaks, including a 2012 explosion in the main transformer that spilled oil into the river and caused Entergy to pay a fine of a $1.2 million.
You can share this story on social media: