Explosion, smoke at Indian Point nuclear plant north of NYC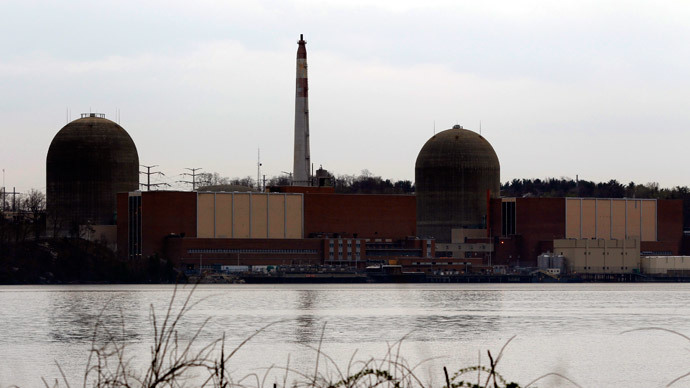 A transformer exploded at the Indian Point nuclear plant, 38 miles (61 km) north of New York, causing visible fire and black smoke. The plant's operator had to shut down one of the reactors but assured the emergency caused no threat to public safety.
Unit 3 of the nuclear plant, which is located on the east bank of the Hudson River, was automatically shut down following Saturday's accident, the plant's operator Entergy Corp has said.
Large transformer explosion at Indian Point Nuclear Power Plant. Several Westchester County units on scene operating pic.twitter.com/thmY8uNKsv

— RocklandFires (@RocklandFires) May 9, 2015
According to the company, the nuclear reactor was not damaged and there was "no threat to public safety at any time."
Indian Point safely shut down following transformer failure outside of nuclear side of plant; No danger to public health and safety.

— Indian Point Energy (@Indian_Point) May 9, 2015
Witnesses posted alarming images of smoke billowing from the plant on social media, saying it followed a large blast and fire.
"It was a huge black ball of smoke and alarms went off immediately," tweeted Gustavus Gricius, a witness near the scene.
— Gustavus Gricius (@GustavusHimself) May 9, 2015
The plant's Unit 2 reactor has continued operating and the fire was put out by the automatic sprinkler system and on-site personnel, Entergy Corp spokesman Jerry Nappi told Reuters. No people were reported injured.
READ MORE: Radioactive water leaked from Fukushima storage tank – TEPCO
Nappi confirmed that the transformers are located some 100 meters from the reactors inside the security zone. Nuclear Safety Project director Dave Lochbaum also downplayed the potential for danger caused by the accident, telling NBC New York that "transformer explosions are not uncommon – they happen roughly three or four times a year across the industry."
The explosion also caused transformer fluid to leak into the Hudson River, with clean-up crews dispatched Saturday.
"It would be unlikely that there would be enough of that fluid to impact the environment in any consequential way, but we have experts on site and expert contract cleanup crews to mitigate that," Nappi said.
Later, Nappi told AFP that electrical engineers were on site Sunday to look into the causes of the transformer failure.
"We have electrical engineers and the manufacturer of other transformers who will investigate what occurred, understand why it occurred, and then replace the transformer with a new one," he said, adding that the inquiry will be led by Entergy Corporation.
Indian Point's 1,031-megawatt Unit 3 had just been brought back online on Friday, after being shut down for a steam leak repair. The plant dates back to 1962, although the currently used reactors were installed later in the 70s.
Explosion Reported At Indian Point Nuclear Plant - http://t.co/V9yBFaKJcSpic.twitter.com/Hjr8hCZ4VK

— All The News (@AllTheNewscom) May 10, 2015
The Indian Point Energy Center produces some 25 percent of New York City's and Westchester's electricity. The combined power generated by the two units amounts to over 2000 megawatts. The facility employs some 1,600 people.

The plant has been a subject of controversy due to its proximity to NYC. Several environmental groups have been calling for Indian Point's permanent shutdown for years. It also has a history of transformer accidents and various leaks, including a 2012 explosion in the main transformer that spilled oil into the river and caused Entergy to pay a fine of a $1.2 million.
READ MORE: 'No one tells us the truth': Locals near Chernobyl fear radiation, Kiev says fire put out
You can share this story on social media: