New York primary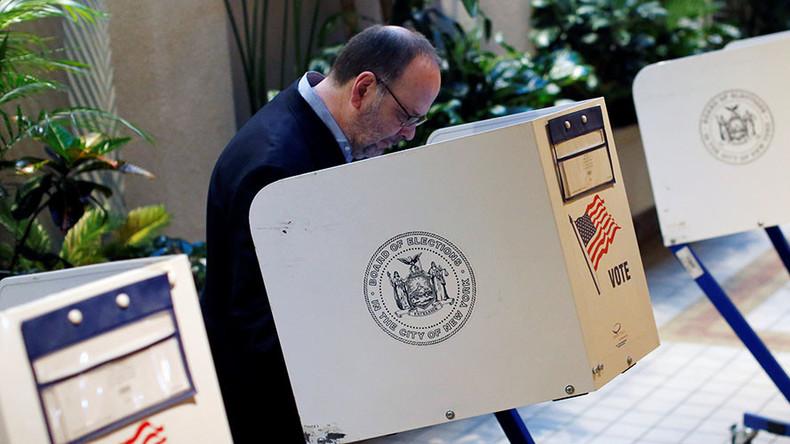 They say if you can make it in New York, you can make it anywhere. While only two presidential candidates will "make it" at the end of today's primary, a close race will mean more delegates for all five. Follow the day's happenings and results here.
With 95 delegates up for grabs on the Republican side, and 247 delegates plus 44 super-delegates on the Democratic side, New York stands to either solidify or completely rearrange the presidential primary process.
How the delegate distribution works
The GOP has a bit more complicated process than the Democrats in New York. Of the Republicans' 95 delegates, three automatically go to the overall winner, while 11 are at-large and 81 are awarded based on results in each congressional district. If the winner earns over 50 percent of the vote, then he will take all of the at-large delegates as well. From there, it is conceivable that New York could end in a winner-take-all scenario, especially with Donald Trump polling far ahead of Ted Cruz and John Kasich. It's also important to note that scoring less than 20 percent of the vote wins nothing.
For Democrats, their delegates will be distributed proportionally across the state as well as in congressional districts.
01:56 GMT
20 April 2016

08:33 GMT

An entire block of Clinton Hill residents found out they were deleted from the voter's registration list after several showed up to vote. They were allowed to vote after they completed an affidavit.

08:14 GMT

Don't celebrate too hard Clinton supporters, a beer at her headquarter's party will cost you $10.

Over at Trump Tower supporters are at least being awarded with free ice-cream.

07:28 GMT

Sanders sets his mind on next weeks primaries while Clinton celebrates

Thank you to all those who came out tonight in New York! Onward to five more states voting next week.

— Bernie Sanders (@BernieSanders) April 20, 2016

02:20 GMT

"In this campaign, we've won in every region of this country... but this one's personal," said Hillary Clinton. Adding, "New Yorkers, you've always had my back and I've always tried to have yours."

"We've seen it's not enough to diagnose problems, you have to explain how to solve problems," she also said.

01:51 GMT

The Empire State building turned red after Trump's win.

And blue for Hillary.

01:47 GMT

Hillary Clinton wins New York State.

01:34 GMT

"We don't have much of a race anymore based on what I'm seeing at the moment. Senator Cruz is just about mathematically eliminated... We have won millions of more votes than Senator close and millions and millions more votes than Kasich." - Trump after NY win, adding, "It's really nice to win the delegates and the vote."

01:06 GMT

Hillary is currently leading the Democratic primaries.

BREAKING: First polls suggest that Hillary Clinton leads New York Democratic primary

— Ruptly (@Ruptly) April 20, 2016

01:01 GMT

New York has been called for Donald Trump by the AP, CNN.