Joe Biden: Netanyahu leading Israel in 'wrong direction'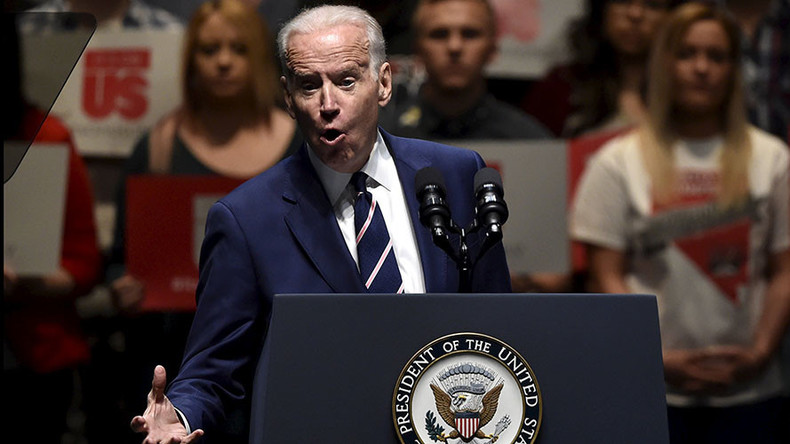 Israeli Prime Minister Benjamin Netanyahu is steering the country in the wrong direction, US Vice President Joe Biden said at a meeting with a Jewish group in an unusually direct and personalized criticism of Israeli policies.
"I firmly believe that the action Israel's government has taken over the past several years – the steady and systematic expansion of settlements, the legalization of outposts, land seizures – they're moving us, and more important, they're moving Israel, in the wrong direction," the vice president told the pro-Israel, pro-peace advocacy group J Street on Monday.
Biden said such actions were pushing the Israeli-Palestinian conflict toward a one-state solution, which he called dangerous for Jews and Palestinians alike. This approach would result in Jews not being a majority in Israel, he pointed out.
In this situation the US has an obligation to guarantee Israel's security and to "push them as hard as we can" toward a two-state solution despite "our sometimes overwhelming frustration with the Israeli government," Biden said.
The VP said that the blame for the lack of progress in the peace progress lies on both sides and criticized the Palestinian Administration for a failure to condemn specific attacks on Israelis over a seven-month wave of violence and stabbings.
"No matter what legitimate disagreements the Palestinian people have with Israel, there is never justification for terrorism," Biden said. "No leader should fail to condemn as terrorists those who commit such brutalities."
In January, Palestinian President Mahmoud Abbas did condemn use of violence as a method of fighting against Israel and threatened groups advocating attacks on Israeli security services with arrest.
The Middle East peace process was supposed to be one of the key points of President Barack Obama's second presidential term, but his administration failed to push for any breakthrough. The tension was aggravated by personal frictions between Obama and Netanyahu.
The latest episode came after the Israeli cabinet held a first-ever session in the occupied Golan Heights last Sunday, with Netanyahu saying that the land, which Israel captured from Syria during the 1967 war and annexed in 1981, was historically Jewish and that Israel would never withdraw from it.
The annexation is considered illegal by the UN Security Council and the international community, a position which the US State Department reiterated.
"This position was maintained by both Democratic and Republican administrations. Those territories are not part of Israel and the status of those territories should be determined through negotiations," US State Department spokesman John Kirby told a media briefing.
READ MORE: Sanders's criticism of Israel is long overdue
America's relations with Israel are an election issue in the US, with most of the candidates stating unwavering support, sometimes in apparent defiance of the government's stance. Republican presidential hopeful Ted Cruz on Monday backed Netanyahu's Golan statements, justifying it by the war in Syria.
"The government of Israel reiterated the reality that the Golan Heights are part of Israel's sovereign territory. Given the presence of hostile terrorist organizations ranging from ISIS to Hezbollah on Israel's northern border, it is foolhardy and dangerous for elements in the international community to try to pressure Israel to abandon the Golan to the chaos engulfing Syria. The path to peace cannot involve Israel's abdication of its own security," Cruz said in a statement.
Democratic socialist presidential candidate Bernie Sanders became a dissenting voice in the concert of support, when last week he questioned whether Washington should support Israel in whatever actions it takes. Speaking at a nationally televised debate with his rival Hillary Clinton, he accused Israel of using disproportionate force during its 2014 offensive operation in Gaza.
Sanders in the only Jewish candidate in the US presidential race and the only one who has lived in Israel. The debate took place days before a crucial primary vote in New York, a constituency with the largest Jewish voter population in America.