Axe-wielding woman shot dead by Tennessee police after eviction notice (VIDEO)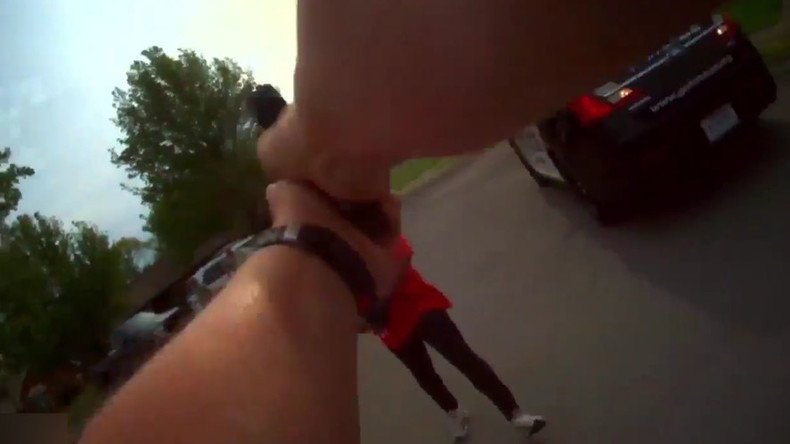 Distressing footage has been released by US police showing the moment a Tennessee officer fatally shoots a woman wielding an axe.
Gallatin Police Department says it has made the video public in the interests of transparency, after the serving of an eviction notice ended in bloodshed.
On Wednesday, Laronda Sweatt was served an eviction warrant by Sumner County Sheriff's Office at her home, where police say she threatened law enforcement with an axe and stabbed a deputy.
Police were called to the scene and, after Sweatt made an "aggressive movement" towards officer James Spray, the cop fired twice. Gallatin Police Department said Sweatt was struck by both shots and later died at hospital.
READ MORE: Ohio cop shoots knife-wielding man in dramatic body cam footage (VIDEO)
Footage of the incident shows the police officer emerging from his cruiser, drawing his gun and warning Sweatt to drop her weapon.
About seven seconds later he fires twice at the woman, who can be seen continuing to walk towards him carrying an axe, and she falls to the ground.
Dashcam recording from a back-up vehicle shows the shocking flashpoint more clearly, with Sweatt collapsing before the cop.
"Upon the arrival on scene of Gallatin officers, Laronda Sweatt met officer James Spray in the street and backed him up to his vehicle while threatening him with the same axe that she assaulted the Sumner deputy," a Gallatin Police Department statement reads.
"As she continued advancing and making aggressive movement with the axe towards our officer, officer Spray fired two shots striking Sweatt both times."
READ MORE: Fast & furious: Suspects do 'donuts,' take selfies during Hollywood-style police chase (VIDEO)
Sweatt later died from injuries at Sumner Regional Medical Center. Meanwhile, Spray has been placed on administrative leave pending an internal investigation.
Her family claim the "sweet, caring" woman was pushed too far.
"Laronda wasn't violent unless you made her violent," her mother told WKRN-TV Nashville. "She was a good mother, she took good care of her child."
You can share this story on social media: