Fast & furious: Suspects do 'donuts,' take selfies during Hollywood-style police chase (VIDEO)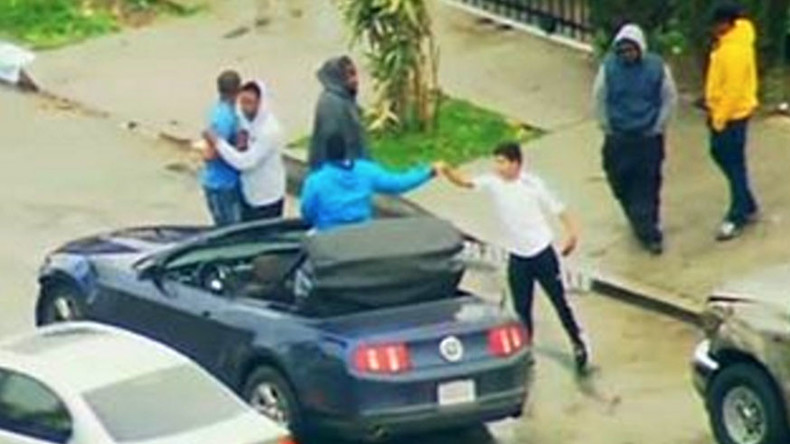 Two burglary suspects led police on a two-hour 'Fast and Furious-style' chase on a rainy LA highway, all while performing high-risk maneuvers, a YouTube video shows. The pair high-fived, took selfies, and were cheered by onlookers.
The insane chase started after a burglary call in the LA suburb of Cerritos on Thursday afternoon, Sheriff's Deputy Ryan Rouzan told local KTLA TV.
The rainy-day pursuit went through much of the greater Los Angeles area, as the dark blue Ford Mustang weaved in and out of traffic, squeezed around other cars and made moves worthy of a Hollywood action movie. The passenger of the car was seen waving and yelling at the people they passed.
The suspects were temporarily blocked by a TMZ Celebrity Tour bus on a Hollywood highway. But that didn't stop them – the driver simply started pulling 'donut' maneuvers in the middle of the road.
"We've spoken to the driver ... who says he never even saw the chase coming behind him. He was innocently changing lanes and ended up cutting off the suspects," TMZ later said, as cited by the LA Times.
Soon after the wild two-hour pursuit, the car stopped in Central Avenue in downtown Los Angeles. The hotheads were cheered with high-fives by a crowd of bystanders, who apparently admired the 'furious' chase. The suspects felt like true Hollywood superheroes – they posed for photos and even took selfies.
However, the fame didn't last long – the men were soon approached by police officers who handcuffed them.
"I have been involved in a lot of pursuits but I haven't seen anything quite like that," Dennis Zine, a former city councilman, told the LA Times. "The high-fives at the end were ridiculous."