Ohio cop shoots knife-wielding man in dramatic body cam footage (VIDEO)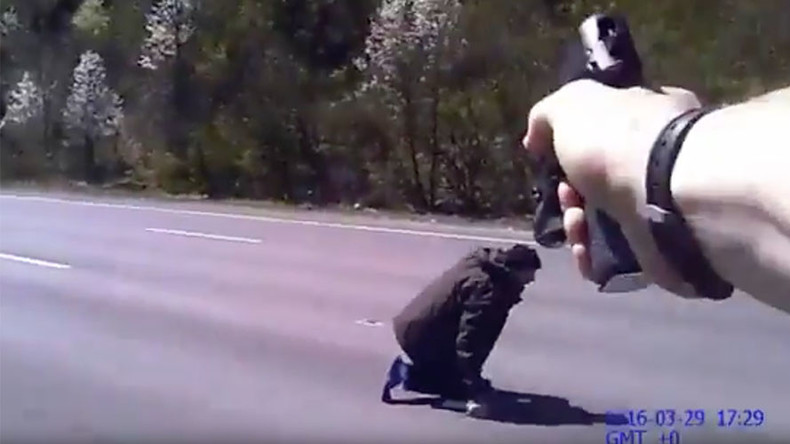 Tense body cam footage from an Ohio police officer who shot a man threatening him with a knife on a highway has been released by the local police department.
Glendale police released the video recorded on a body camera worn by officer Joshua Hilling as he confronted a man walking along the side of Interstate 75.
After initially questioning the man about where he has come from and where he plans on going, the officer asks him to put his bag down and keep his hands out of his pockets.
Hilling then asks the man, identified as Javier Pablo Aleman, 46, to put his hands on the police cruiser so he can be searched, when Aleman suddenly pulls out a knife and charges at the cop.
The officer fires a shot in response, hitting Aleman in the abdomen and knocking him to the ground.
The video shows Aleman get up and continue to carry the knife, shouting "kill me" repeatedly, as Hilling calls on him to "stay down" and surrender.
However, Aleman repeatedly pulls himself up off the ground and follows the officer, still wielding the knife.
Police support soon arrives, and Aleman is detained as Hilling tries to regain his composure.
It has since emerged that Aleman is wanted by Baltimore County Maryland Police in connection with the homicide of a 51-year-old man on March 17.
Aleman remains in hospital but will face an attempted murder charge over the altercation with the Ohio officer on March 29.
Hamilton County Prosecuting Office announced Tuesday that Hilling would not face charges over the shooting. Prosecutor Joseph T Deters credited the officer with "incredible restraint" for only firing once at Aleman.
"This situation could have ended very differently had Officer Hilling not responded with such restraint," said Deters in a statement."Anyone who watches this video has to be incredibly impressed with how Officer Hilling handled the situation."
Hilling was recently promoted to a full-time officer at Glendale Police Department after working there part time for four years.