'Dangerous conspiracy': Massey CEO gets fine, prison time for mine explosion that killed 29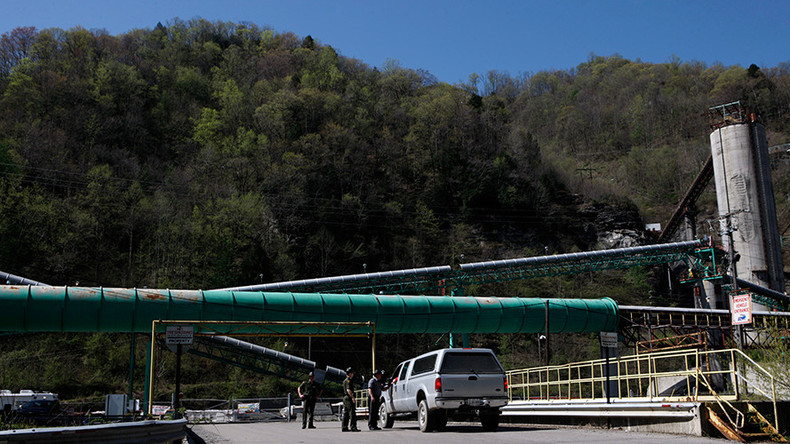 Don Blankenship, Massey Energy's former CEO, has been sentenced to a year in prison and a year's probation, with a federal judge saying his participation in a "dangerous conspiracy" had led to the deadliest US coal mine explosion in 40 years
US District Judge Irene Berger handed down the sentence, which also included a $250,000 fine, on Wednesday.
"By putting profits of the company ahead of the safety of your miners, you, Mr. Blankenship, created a culture of non-compliance at Upper Big Branch," Judge Berger said, according to the West Virginia Gazette Mail. "Instead of being able to tout you as a West Virginia success story, we are here as a result of your participation in a dangerous conspiracy."
"Safety has to be paramount," Berger added, noting that coal mining has been conducted in West Virginia for many years.
During the sentencing hearing, government prosecutors argued for the maximum sentence, telling the court that Blankenship had put profits above safety.
"Breaking mine safety laws kills people. Breaking mine safety laws kills coal miners," said Assistant US Attorney Steve Ruby, according to the Gazette Mail. "The defendant placed human lives in jeopardy."
In December, a federal jury convicted Blankenship of a misdemeanor charge for conspiracy to violate mine safety standards at the Upper Big Branch Mine. Massey Energy owned and operated the West Virginia mine where 29 of 31 miners were killed in an explosion in April 2010 – the worst mining disaster in 40 years.
READ MORE: Ex-CEO indicted for deaths of 29 in explosion
Blankenship was not charged with causing the explosion.
The 66-year-old former CEO addressed the court briefly before being sentenced, calling those lost in the explosion "great guys, great coal miners," and expressing sorrow to their family members, all while maintaining his innocence.
"It is important to everyone that you know that I'm not guilty of a crime," Blankenship said, reported the Associated Press.
During the investigation, the Mine Safety and Health Administration found that a company culture favoring production over safety had contributed to the dangerous conditions that led to the coal dust explosion. Investigators found more than 1,100 flagrant safety violations at the mine, including improper ventilation of methane and poor escape routes.
During the year preceding the explosion, Federal regulators had to order the closure of portions of the mine 60 times. The FBI even launched an investigation to find out whether the federal officials responsible for ensuring compliance with mining industry regulations had been bribed by Massey Energy.
Coal dust, methane gas, and deteriorating equipment all contributed to the ignition of the explosion, investigators found. Additionally, broken and clogged water sprayers allowed what should have been a minor flare-up to escalate into an inferno.
After the hearing, several family members outside the courtroom screamed at Blankenship as his defense team tried to field questions from the press.
"We buried our kid because of you," said Robert Atkins, whose son Jason died in the explosion, according to the AP. "That's all I got is a goddamn tombstone."
However, others praised the judge for sentencing Blankenship to the maximum allowable prison sentence and fine.
Massey Energy Company was the fourth largest producer of coal in the US, with substantial operations in West Virginia, Kentucky, and Virginia.
In January of 2011, a little more than a year after the disaster, Massey Energy was bought by its competitor, Alpha Natural Resources, for $7.1 billion.
In December of 2011, Alpha Natural, which was not accused of wrongdoing in the indictment, agreed to pay $209 million to settle criminal and civil charges filed due to the deadly explosion, including $1.5 million to each family of the 29 miners who perished in the blast.
In January of 2013, former mine superintendent Gary May pleaded guilty to a conspiracy charge and was sentenced to 21 months in prison.
Blankenship retired in December of 2010, gliding into his golden years on a $12 million golden parachute.