Ex-CEO indicted for deaths of 29 coal miners
Published time: 14 Nov, 2014 18:47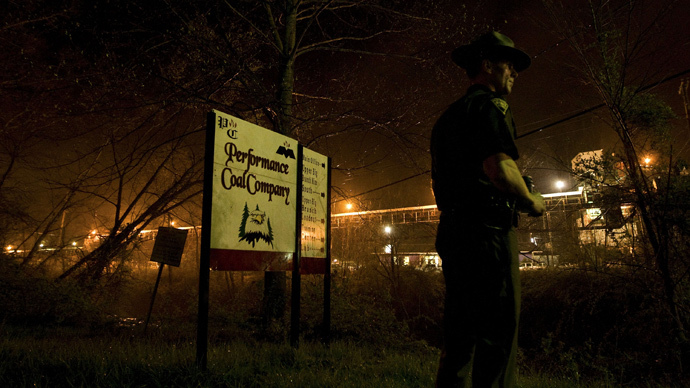 Donald Blankenship, former chief executive of Massey Energy Co., was indicted Thursday on charges that he violated mine safety laws ahead of an April 2010 blast that killed 29 miners at the company's Upper Big Branch mine in West Virginia.
The US Department of Justice said a federal grand jury charged the former Massey CEO with four criminal counts, including conspiring to violate mine safety standards, conspiring to impede mine safety officials, making false statements to the US Securities and Exchange Commission and securities fraud.
The April 5, 2010 explosion at Upper Big Branch was the worst US mining disaster since 1970. Twenty-nine of the 31 miners at the site died, as the explosion occurred around 1,000 feet underground.
The mine, in Raleigh County, West Virginia, 40 miles south of Charleston, is now closed. Alpha Natural Resources Inc. bought Massey in 2011 for around $7 billion.
Blankenship, Massey CEO from 2000 to 2010, now faces a maximum 31 years in prison. He received $17.8 million of compensation in 2009, according to the indictment.
"Mr. Blankenship is entirely innocent of these charges. He will fight them and he will be acquitted," said William Taylor, Blankenship's lawyer, in a statement, according to Reuters.
The indictment alleges that, from January 2008 to April 2010, Blankenship knew of and could have corrected hundreds of safety law violations occurring every year at the mine.
Blankenship is accused of tipping off workers about forthcoming inspections as to cover up any violations. He then misled the US Securities and Exchange Commission regarding Massey's operations following the blast.
The former Massey CEO "fostered and participated in an understanding that perpetuated (the mine's) practice of routine safety violations, in order to produce more coal, avoid the costs of following safety laws and make more money," the indictment said.
Blankenship is "a tireless advocate for mine safety," said Taylor, Blankenship's lawyer, in his statement. "His outspoken criticism of powerful bureaucrats has earned this indictment. He will not yield to their effort to silence him. He will not be intimidated."
In December 2011, Alpha Natural, which was not accused of wrongdoing in the indictment, agreed to pay $209 million to settle criminal and civil charges over the deadly explosion, including $1.5 million to each family of the 29 miners who perished in the blast.
In January 2013, former mine superintendent Gary May also pleaded guilty to a conspiracy charge and was sentenced to 21 months in prison.