'We have the moral high ground': Trump details how to make Mexico to pay for border wall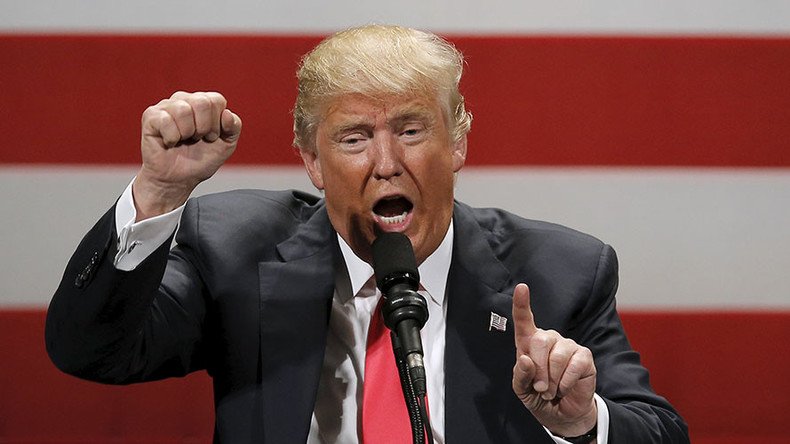 Republican presidential candidate Donald Trump says that he could "win the negotiation" with Mexico and compel its government to pay for construction of a $5-10 billion border wall using the USA Patriot Act, increased trade tariffs and visa threats.
Building on his immigration policy plan released in August, Trump, the current frontrunner for the GOP presidential nomination, said Tuesday that his infamous promise to make Mexico shell out money to pay for a border wall could be fulfilled through a variety of measures, most notably by amending the USA Patriot Act. The law, passed shortly after the attacks of September 11, 2001, expanded government surveillance and law enforcement actions, justifying them as tools need to counter terrorism.
In the newly-released plan, Trump proposed redefining the Patriot Act's "know your customer" provision ‒ which demands financial institutions identify customers prior to opening an account or executing a financial transaction ‒ to include wire transfer companies like Western Union, and to count wire transfers as an "account." The intent would be to bar undocumented immigrants from wiring money into Mexico without offering documented proof of "lawful presence in the United States."
From there, Trump said that Mexico will choose to pay as much as $10 billion for a border wall in the face of possibly losing "approximately $24 billion a year in remittances from Mexican nationals working in the United States" which Trump says comes mostly from "illegal aliens." Once the Mexican government agrees to pay the funds for the wall, "the Trump Administration will not promulgate the final rule, and the regulation will not go into effect."
Around $25 billion was sent to Mexico by Mexicans living abroad, not just the United States, the Mexican central bank has said. The US Government Accountability Office said in January that the exact amount of money sent to Mexico from the US from illegal workers is difficult to track.
Trump said that tariffs on imported goods from Mexico "will be more than offset by the economic and income gains of increased production in the United States, in addition to revenue from any tariffs themselves." The US has an advantage in dealings with its southern neighbor because Mexico "needs access to our markets much more than the reverse," he said, thus, "we have all the leverage and will win the negotiation."
The real estate mogul's plan goes on to include potential cancellations of visas for Mexican nationals, as well as for business and tourist visas "for important people in the Mexican economy." Trump added that increased visa fees, even by a small amount, "would pay for the wall."
"The United States has borne the extraordinary daily cost of this criminal activity, including the cost of trials and incarcerations. Not to mention the even greater human cost," Trump said in conclusion. "We have the moral high ground here, and all the leverage. It is time we use it in order to Make America Great Again."
One immigration law expert said amending the Patriot Act in such a manner would almost certainly lead to legal action.
"Trump is giving an extremely broad definition of this section of the Patriot Act and what it allows, and it'd surely be litigated," Stuart Anderson, executive director of the National Foundation for American Policy, told the Washington Post. "It would be a large expansion beyond what the text reads."
Wisconsin, we will MAKE AMERICA GREAT AGAIN!

— Donald J. Trump (@realDonaldTrump) April 5, 2016
The Wisconsin presidential primary is taking place on Tuesday, marking an important moment for US Senator Ted Cruz (R-Texas), Trump's main opponent for the GOP nomination. Cruz, who trails Trump by 262 delegates with 17 presidential primaries remaining, is favored to win Wisconsin in most polling surveys, according to RealClear Politics.
You can share this story on social media: