Trump withdraws promise to support GOP nominee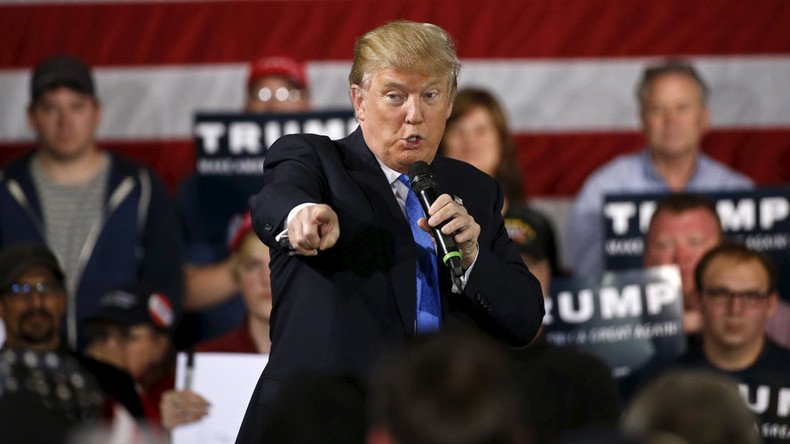 Republican presidential candidate Donald Trump has reneged on his pledge to support whomever the GOP nominates to be its standard-bearer during the 2016 election. The remaining conservative candidates also distanced themselves from the same promise.
Trump revealed his decision during a televised town hall on CNN on Tuesday, after Anderson Cooper asked: "Do you continue to pledge [to support] whoever the Republican nominee is?"
"No, I don't anymore," Trump said. "We'll see who it is."
Trump went on to say that he's taken exception to the way he's been treated by the party at large. "I have been treated very unfairly" by the Republican National Committee and the establishment, he said.
When Trump first signed "The Pledge" in September, he promised to get behind the eventual GOP nominee even if it didn't end up being him. At the time, Trump was rocketing up in the polls thanks to his restrictive immigration proposals, and many conservatives feared a possible third-party run, so they looked to lock up his support by pressuring him to sign a pledge.
Although Trump did pledge his loyalty, he did so on the condition that he would be treated "fairly" by the Republican Party. Trump has since gone on to win numerous primaries and is the undisputed frontrunner, but leaders in the party have blasted his candidacy as xenophobic, misogynistic and offensive. Trump has also been involved in a personal spat with his chief rival, Texas Senator Ted Cruz, over each other's marriages and the appearances of their wives.
"I just wanted fairness from the Republican Party," Trump said back in September. "I will be totally pledging my allegiance to the Republican Party, and the conservative principles for which it stands."
Now, the bitter primary process has left Trump, Cruz, and Ohio Governor John Kasich all backing away from the pledge in order to boost their own campaigns.
"I'm not in the habit of supporting someone who attacks my wife and attacks my family," Cruz said on CNN Tuesday, referencing the attacks on his wife. Cruz also argued that Trump will not be the GOP nominee.
"If the nominee is somebody I think is really hurting the country, and dividing the country, I can't stand behind them," added Kasich, who has largely stayed away from personal attacks.
The town hall question arose as former GOP candidate Marco Rubio, who suspended his campaign in mid-March, made an unprecedented bid to keep his pledged delegates in the hopes of a brokered Republican convention in July, MSNBC reported. The Florida senator has reached out to 21 state GOP parties asking them not to release his delegates.
While Rubio is "no longer a candidate," he "wants to give voters a chance to stop Trump," aide Alex Burgos told MSNBC.
Rubio has 163 bound delegates and won in Minnesota, Puerto Rico and the District of Columbia. So far, at least one state ‒ Alaska ‒ has agreed with the senator's request.
"Rubio said, 'I want my delegates,' and I said, okay," retired Army Col. Peter Goldberg, chairman of the Alaska Republican Party, told MSNBC, adding that he had consulted with the national party before making the decision. "Most states are leaning towards giving [Rubio] his delegates."
The remaining candidates have all shifted their focus to the April 5 Wisconsin primary, where 42 delegates are up for grabs and the contest could be a potentially crucial turning point in the race. Trump has said the race is essentially over if he wins, but a loss could deprive him of the ability to earn the necessary delegates required to clinch the nomination.
Whether Trump earns the nomination or not, many political analysts believe his campaign could be dangerous for the GOP. If Trump isn't nominated and rescinds his support for the party or runs an independent campaign, Republicans will likely be split going into November and the Democrats would win the election. If Trump is nominated, his controversial comments and brash attitude may also turn off many voters and send them towards the Democrats.
You can share this story on social media: