Flint water crisis loses 2 spokesmen in first round of March Madness tourney
Published time: 19 Mar, 2016 02:31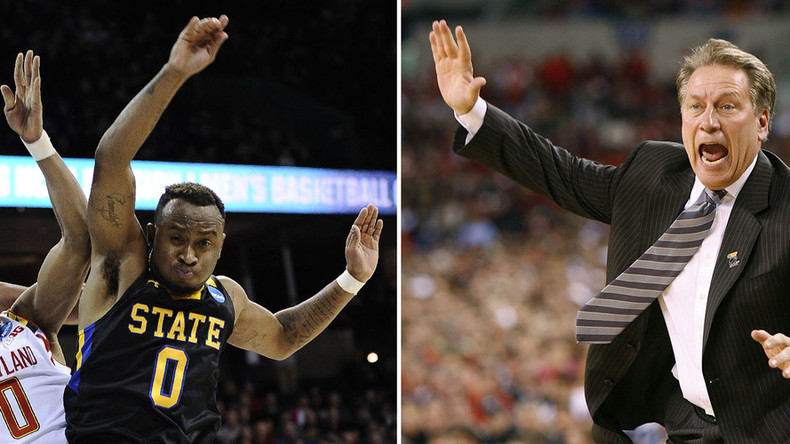 When the South Dakota State Jackrabbits and Michigan State Spartans got knocked out of the NCAA basketball tournament, more than just the teams' fans lost out ‒ so did residents of Flint, Michigan dealing with a lead-contaminated water crisis.
The basketball and gambling worlds were rocked Friday when second-seeded MSU lost to Middle Tennessee State University, a 15 seed ‒ it's only the eighth time the 15-2 upset has occurred. It was less of a surprise when 12-seed SDSU fell short against the University of Maryland, a five seed. But those two losses knocked out two of the best spokesmen who could have brought the Flint water crisis onto the television sets of millions of sports fans.
In Michigan, much of the focus of how to deal with Flint's lead poisoning has occurred in the capital of Lansing. Yet, next door in East Lansing, MSU coach Tom Izzo took notice of the crisis.
Izzo has a history with the city that lies 45 minutes northeast of the school's main campus, recruiting at least six former players from Flint. Although none of his current roster grew up there, he's issued a call-to-action not only from Flint's former Spartans, but also from the university administration and the state government.
"I know our university is getting involved in" helping with the crisis, Izzo told the Lansing State Journal in January. "I just feel awful about what's going on up there. I have no idea on all the circumstances to everything. But I hope some way, some how there's enough out there that instead of complaining about what's going on, we can start helping what's going on. And I know [MSU is] taking some initiatives."
"It's not about our team going up there and handing out water and getting in the media, it's about a way bigger problem than that," the coach added.
With a distance of about 900 miles between Flint and the campus of SDSU, you could be forgiven for wondering how the lead crisis in Michigan could be affected by a mid-major basketball team in Brookings, South Dakota. That is, until you realize that senior guard Deondre Parks grew up in Flint, and his family still lives there.
For Parks, the crisis is personal. Both of his younger brothers were diagnosed with lead poisoning during the basketball season.
Praying for my two little brothers back home 🙏🏽

— Deondre Pookie Parks (@_Dregotthejuice) February 2, 2016
My mind so damn lost , my little brother keep having seizures , Twitter can you say a prayer tonight for my brother ... If so thank you

— Deondre Pookie Parks (@_Dregotthejuice) December 29, 2015
"The lead poisoning has my 10-year-old brother having seizures, and my three-year-old brother, he can't talk," Parks told South Dakota Public Broadcasting in mid-February. "Something is happening with his brain and the lead water. So my family is going through a lot right now."
Jackrabbits Coach Scott Nagy not only supports Parks, but helps the senior basketball player's mother as well.
"He talks to my mom, he calls her, and makes sure she's ok and asks her how her day was. I mean, nobody in the world should have to go through not being able to have water," Parks said.
The water crisis began when city officials sought to save money by switching the water source from Lake Huron and the Detroit River to the Flint River ‒ now known to contain high levels of chloride ‒ in April 2014. Michigan officials did not require that the river water be treated for corrosion, and lead from aging pipes and fixtures leached into Flint homes and businesses for nearly two years before the water source was switched back to the Detroit River.
About 8,000 children under the age of six were potentially exposed, and elevated lead levels have been found in some children's blood. Lead contamination has been linked to learning disabilities, skin rashes and other health problems. Flint residents not only cannot drink water out of their taps, but they can't bathe with the water either.
That's caused a problem for high school athletes in the city who are relying on donated bottled water for drinking and showering during practices and games.
"All the water we have has been donated," Flint Northwestern High School athletic director Michael Thompson told the Detroit News, adding that the athletics department alone goes through 12 cases of water a day. "You name it, we've been getting water from everywhere. It hasn't cost us a dime."
While the donations came through from big names like Izzo, NBA hall-of-famer Earvin 'Magic' Johnson (himself a former Spartan) and Detroit Pistons owner Tom Gores, they also provided publicity for the water crisis. Now, the MSU and SDSU losses mean that Izzo and Parks can't use the national spotlight that the NCAA national championship tournament would have brought the city of Flint.
There are, however, still two others playing who could call attention to the water crisis: University of Utah's Kyle Kuzma and Iowa State University's Monte Morris.
"My family, we've always drank like bottled waters and gallon of waters because we never really trusted the city water anyway," Kuzma told KSL in February. "Part of it the water was cloudy and stuff, but you know, taking showers, it's not really safe because, you know, you can end up getting rashes on your skin and stuff. Even the little things, you know, you need water for, you know, cooking, you know, brushing your teeth."
"It definitely affects the community and my family," he added.
Morris has already called attention to the crisis affecting his hometown. In February, Iowa-based grocery store Hy-Vee donated 11 semitrailers of water ‒ in honor of the number on his jersey ‒ on behalf of Morris, Iowa State Athletics said in a statement.