Dogs become latest victim of Flint water crisis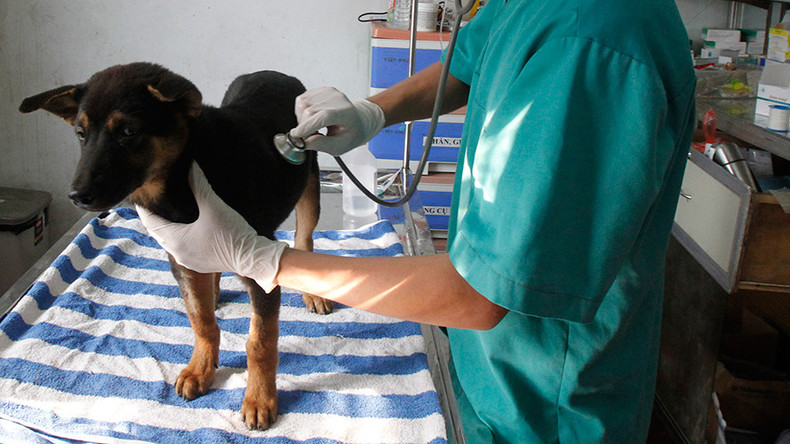 The Flint water crisis is expanding again. This time, however, the devastation is affecting man's best friend, as two dogs in Genesee County, Michigan have tested positive for lead toxicity, according to the state veterinarian.
The two dogs, both crossbreeds, are still alive, said Dr. James Averill, state veterinarian and Animal Industry Division Director for the Michigan Department of Agriculture and Rural Development. One dog is a pet, while the other is a stray.
The lead-toxicity test results were confirmed in October 2015 and January 2016, but state officials declined to release further details about the cases, including whether either or both of the pups live in Flint, the Detroit Free Press reported.
"The confidentiality of the owners is like medical information in humans," Averill said.
The two dogs are the first confirmed cases of lead toxicity in canines in the past five years, the Free Press reported citing state records.
It is unknown if the dogs drank Flint water, which has been contaminated since city officials sought to save money by switching the water source from Lake Huron to the Flint River ‒ now known to contain high levels of chloride ions ‒ in April 2014.
Soon after, Flint residents started complaining about their drinking water, and the city issued a number of boil notices that summer, following fears that fecal coliform bacteria was present in the water supply.
State officials also would not reveal how much lead the dogs had in their systems, what symptoms they exhibited, their weights, or how old they are.
"[The state] does provide reportable disease/condition case information down to the county level, but cannot provide the specifics of those individual cases," Jennifer Holton, spokeswoman for the Michigan Department of Agriculture and Rural Development, told the Free Press in an email, citing the Animal Industry Act of 1988 for keeping information in the cases hidden from the public.
Kenneth McCloud, 51, and Tammy Loren, 36, blame the death of their dog on Flint's toxic water, they told the Huffington Post. Their four sons were recently diagnosed with lead poisoning as well, although their doctor said the kids have had elevated lead levels for nearly two years ‒ about the time the city switched its water source.
"After General Motors packed up and moved out, that's when poverty struck. Drugs came in and destroyed families," McCloud said. "The economy went to a crash. Broken homes sprouted up, and families just went to hell. Right now, we've been dealt so many blows, this right here was just the lowest of them all."
The state is in contact with veterinarians in and around Genesee County, the "vast majority" of tests for lead in dogs have been negative, Averill said. Symptoms for toxicity can vary because "they're so similar to so many other diseases," he added.
Symptoms can include "mental dullness," possibly arthritis, "probably general malaise first," Dr. Michael Merrithew, a veterinarian for about 43 years in the neighboring town of Grand Blanc, told the Free Press.
The important thing to watch for is any differences from a dog's normal routine, Averill noted.
"My dog, when I get up in the morning, the first thing he wants to do is get up and go to the bathroom," he said. "[Pet owners] know their animals. And when they're not their normal selves, tell them to seek veterinary care."
Pet owners should give their animals bottled water to drink, but it is okay to bathe pets in Flint's tap water, which still contains lead, even after the city switched its water source back to the Detroit River.
For those without access to bottled water, Dr. Lawrence Ehrman, a veterinarian for about 33 years in Flint Township, recommends turning to Mother Nature.
"Probably melt some snow," he said. "And it would be safer, if your only other choice is feeding them straight Flint water."
The only previous cases of lead poisoning in animals since 2011 have involved cattle.
Pets have also been affected by an infrastructure disaster in California. RT's Manila Chan reports on how a methane leak in Southern California's Porter Ranch is affecting animals in similar ways to humans.
You can share this story on social media: