'Systematically' shot and left for dead: Arkansas massacre of more than 60 dogs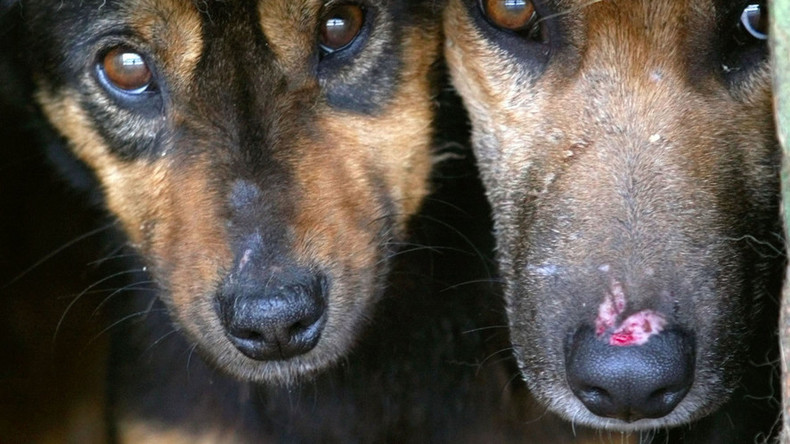 A gruesome discovery has been made in rural Arkansas: Some 60 dogs were brought to a tract of land, poisoned with sleeping pills and shot. Nearly all of the canines died. Six survivors had to be euthanized because their wounds were too severe to overcome.
Two men from a lumber mill were looking at timber tracts in a remote forest area off Arkansas 254 in the Chimes-Trace Ridge Area south of Marshall. Instead they saw a disturbing sight: Scores of dead dogs scattered throughout the woods, KYTV reported.
The men notified the Arkansas Game and Fish Commission on Thursday, who then brought in the Searcy County Sheriff's Office, Sheriff Joey Pruitt told the Harrison Daily Times.
A total of 56 dead dogs were found; one more was shot and wounded had to be put down by a game warden. There was no hope of saving the dog that had to be euthanized because of its injuries, John Magruder, the shelter manager for the Searcy County Humane Society, told KYTV.
"I don't really have any words for what it makes me feel like. I've worked with dogs all my life and I love them a whole bunch and I just don't deal well with this, but I'm doing my best so I can save the ones I can," he said.
By Monday, five more dogs had to be euthanized because of severe injuries, Jean Passmore, the Humane Society treasurer, told the NBC affiliate. The canines were fed hot dogs laced with sleeping pills before they were gunned down, she added.
Read more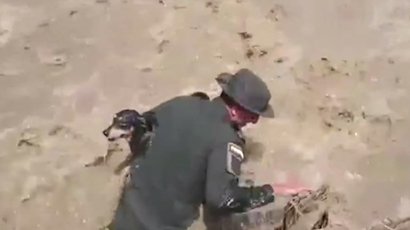 Magruder managed to rescue four dogs from the forest, bringing them back to the Humane Society.
"We caught these two little female dogs. We brought them in this morning. This dog in here has been shot," he said over the weekend, referring to a male with a bullet hole in his shoulder that is already beginning to heal.
Three of the four rescued survivors were skittish and difficult to catch, but one little guy came right to Magruder, eager for love, he told KYTV.
"He saw us, and that I had a bag of treats, and he took a treat and he was in the truck [immediately]. He said, 'I've had enough of this'," Magruder said. "Who could hurt him? Why would you hurt him?"
Three days after the massacre was discovered, there were two more dogs who needed to be rescued. Magruder was trying to lure them with food. One, a female, was still too skittish to approach the food, KYTV reported. Instead, she lurked in the woods, remaining close to the massacre site, which is only accessible by a logging road.
The surviving six dogs were fairly healthy and not necessarily aggressive, but not extremely friendly either, Pruitt told the Harrison Daily Times.
"They could have found homes for these dogs. Why? Just why?" Jean Passmore, the Humane Society treasurer, told KYTV.
The sheriff believes someone brought the dogs to the forest, fed them poison and opened fire.
"Systematically just start shooting and just leaving them lying and not even making sure that they're dead. I just can't imagine somebody doing that," he told KYTV. "This is my first in 25 years of law enforcement. I've never seen anything like this."
The sheriff and state investigators have recovered some evidence from the massive crime scene, but they're still processing it. The remains were found in two areas, a couple of hundred yards apart, Pruitt told the Washington Post.
"Those dogs were more scattered out into the wooded area," he said. "The first bunch were just all ‒ I won't say they were in a pile ‒ but they were all just there close together."
None of the dogs had collars or name tags, and they could have been on the uninhabited property for two or three days, the sheriff told KATV.
Read more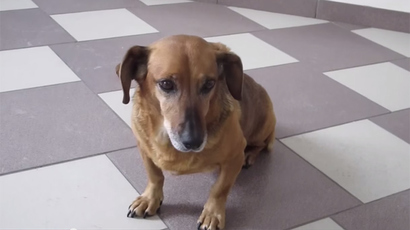 Investigators, including some from the Arkansas State Police, are unsure if the dogs were from Searcy County or another location. They could have been hauled in already dead, Pruitt told the Post, and disposed of in the woods.
Authorities have no suspects or leads so far.
"Just right now, you know, my thought is it was probably someone that was maybe rescuing dogs or some sort of rescue operation that probably just ran out of funds and couldn't feed them," Pruitt told the Post. "I don't know. I don't think it's some kind of organization that's going around stealing people's pets. Most of the dogs appeared to be in good health. There were a few that appeared to be malnourished. But for the most part, they were healthy-looking dogs."
Although a dog rescue operation was shut down in Searcy County a few years ago, Pruitt believes the suspect in that case had moved on from the area, he told the Harrison Daily Times.
"Right now, I'm going to say we don't have any leads that have checked out," he said Friday evening.
The Searcy County Humane Society needs donations to help cover medical costs and maintenance of the shelter, Magruder and Passmore told KYTV.
The person or people responsible for the gruesome massacre could face felony charges, Pruitt told the NBC affiliate, asking for any tips. Anyone with information that may be helpful to the investigation has been asked to call the Searcy County Sheriff's Department at (870) 448-2340.