Siberian 'Hachiko' dog allowed to stay in hospital where owner died 1 yr ago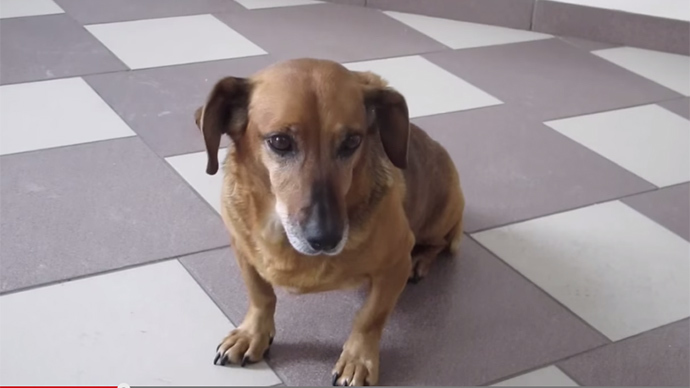 The holiday spirit is alive and well in a hospital in Siberia, where Masha, Russia's own 'Hachiko' dog was given permanent residence status. For a whole year the loyal pet kept 'dogging' the hospital, waiting for her owner who had passed away.
READ MORE: 3D-printed legs make disabled dog learn joy of running (VIDEO)
Despite a number of attempts to have Masha adopted, the heartbroken pooch kept running away and coming back to the Novosibirsk District Hospital Number One, where she last saw her owner in December, 2013.

"Masha will always stay here, because she is waiting for her owner. I think that even if we took her to his grave, she wouldn't believe it. She's waiting for him alive, not dead," nurse Alla Vorontsova told the Siberian Times.

The dog's heartbreaking story has gathered quite a bit of attention in Russia and even abroad, after it went viral in the media. The sad dachshund was adopted a number of times, but all unsuccessfully.

"People in Russia tried to adopt her three times, but she always came back. I also heard that a number of foreigners wanted to adopt her too, but it is impossible – she doesn't want to leave the hospital. And besides, we love her and she loves us. How could she live somewhere far away? She would just pine away," Vorontsova said.
For a year, hospital workers fed and walked Masha, and now they have finally managed to make it official; Masha has her own cozy spot inside the building.

"Here all the patients come to her, stroke her and give something tasty, especially the older people. She warms their hearts," the nurse added.

Masha's elderly owner was admitted to the hospital and his dog was his sole visitor there.

Masha's loyalty earned her the media nickname Hachiko – in reference to the famous story of a Japanese Akita dog.

Agricultural science professor Hidesaburo Ueno got Hachiko in 1924. The dog would greet the owner at the station every day. After Ueno passed away, Hachiko kept returning to the train station for 10 years, waiting for him to come back.

The amazing story turned the pet into a national hero and later inspired a Hollywood movie, 'Hachiko: A Dog's Tale,' starring Richard Gere.
You can share this story on social media: