3D-printed legs make disabled dog learn joy of running (VIDEO)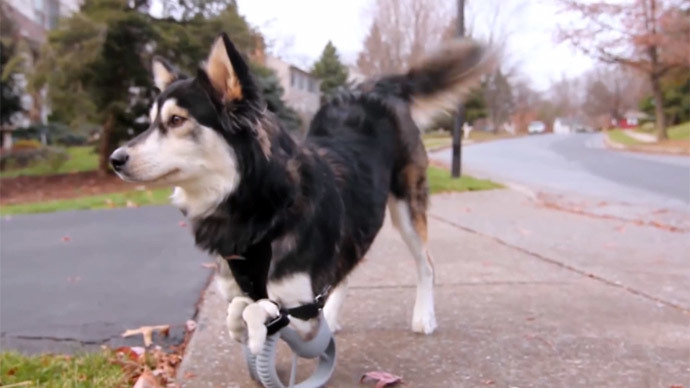 A pair of 3D-printed legs has sent a dog, born without front limbs, on his first ever run down a street. The video featuring the disabled animal happily sprinting into a normal dog's life has won the hearts of millions on the web.
Derby the dog, who was born with only small forearms and no front paws, got his lucky ticket, when Tara Anderson of the South Carolina-based 3D Systems, decided to adopt him from a foster home. She was resolute on helping Derby to move around in the most comfortable and least traumatic way.
Her first idea was a cart, which turned out quite helpful, but would still not give Derby "the full motion of running."
3D-printed limbs turned out a much better solution, which is obvious in the touching video recounting in 3 minutes the drama of Derby's life with the happy new limbs being the ending. The video, garnering over 5 million views on Youtube, has made the dog an online star.
Derrick Campana, an animal orthotist, who was invited to help design the prosthetics, was impressed by the way in which 3D printing could make his job easier.
"The great thing about using 3D technology in Derby's case is having these images on file and being able to print them is a lot easier than having to hand sculpt every single mould and rebuild these braces five or 10 times," Campana said.
The 3D paws fit so well and the chosen loop shape proved so right, that Derby is now running for miles with his newly adoptive owners, Sherri and Dom Portanova, who say the dog "never tires out".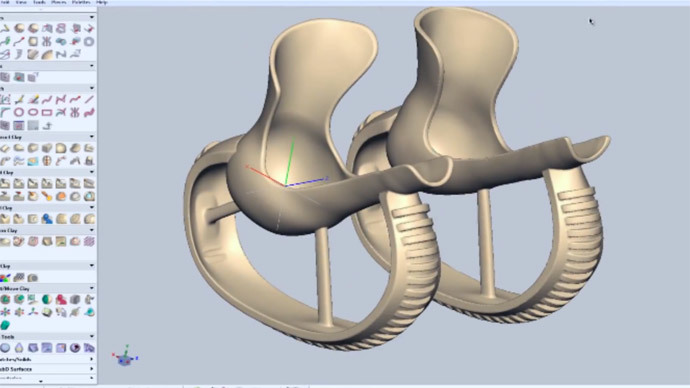 "I don't become impressed very quickly, but when I saw him sprinting like that I just could not believe it," Dom Portanova said.
And it's only the beginning. Many online users mentioned in the comments to the running Derby video that his front 3D paws seemed too low. The 3D Systems explained they started from this version of limbs, so that Derby could quickly adapt to them and that the dog's front legs will gradually grow.
"With 3D printing it's easy to iterate design, so he is being fitted with progressively longer legs until he reaches his optimal height," the company commented on Youtube. "Work is ongoing and we are about to 3D print the 4th version of his prosthetics."
You can share this story on social media: