Elephant in your room: Google takes Magic Leap into virtual reality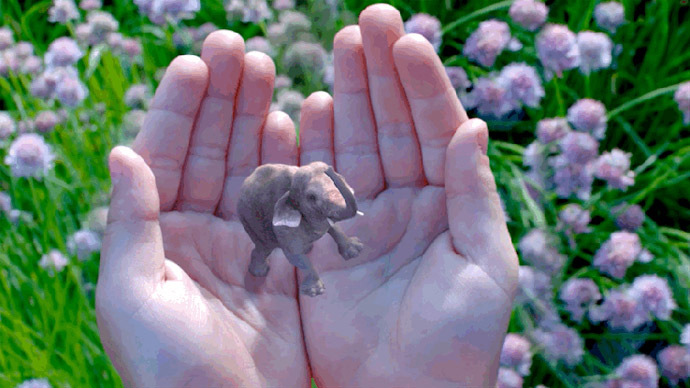 Google, semiconductor giant Qualcomm and other blue chip companies have invested $542 million in venture funding into Magic Leap, a little-known company that promises to mesh virtual objects with our view of the world.
This is the second successful round of investment for the Florida company, which has not brought out a single commercial product or prototype, but is now valued at over $1.6 billion. While Google has led the investment round, other prominent funders included KKR, Vulcan Capital, Kleiner Perkins Caufield & Byers, Andreessen Horowitz and Obvious Ventures.
Magic Leap already brought in $50 million earlier this year, in a previous investment round.
"Magic Leap is going beyond the current perception of mobile computing, augmented reality, and virtual reality. We are transcending all three, and will revolutionize the way people communicate, purchase, learn, share, and play,"boasted the maverick founder, president and CEO Rony Abovitz.
So just what is offered by Magic Leap, which says it has combined "hardware, software, sensors, core processors, and a few things that just need to remain a mystery" in its projected device?
The self-consciously trendy Magic Leap website shows animated objects – palm-sized elephants, flying yellow submarines and giant sharks - integrated into pictures of reality, a little like 'Who Framed Roger Rabbit?' or the Garfield films.
But instead of being projected on a flat screen, these images are part of real landscapes, as seen by the human eye.
Abovitz says the effect will be created by a "light, wearable device," and tech website Re/code reported that it will include a projector that will trace the users' eyeballs and beam images into them, using depth perception tricks to convince them that what they are seeing is a 3D object far away, not just a signal sent from a few centimeters.
Unsurprisingly, as film producers look to further the success of 3D films, Magic Leap has also attracted money from Legendary Entertainment in the current round of investment.
But Google likely has a more ambitious plan for Magic Leap's technology, which ties in with its Google Glass smartglasses, which have gradually been rolled out for the past two years.
Echoing Google co-founder Sergey Brin, Abovitz told Techcrunch that the "world is the desktop," meaning that instead of interacting with the screen when searching or working, people can now do this directly with the outside world, with the aid of technology that better understands real life objects, as seen by the human eye.
Abovitz said that although a member of Google will accept a place on the Magic Leap board, the two projects will not be merged, and use different approaches.
As well as expanding its capabilities Google's acquisition can also be seen as a defensive move against Facebook, which purchased virtual headset maker Occulus for $2 billion earlier this year. That company's headline project, the Occulus Rift, is set to appear on the shelves sometime next year.
The move represents a display of trust by Google in Rony Abovitz, who last year orchestrated a $1.65 billion deal for MAKO Surgical, a robotic surgical arm producer he earlier co-founded. Despite a solid track record, Abovitz cuts a zany figure – he gave a Dadaist performance at a TedX Talk last year in Florida, and Magic Leap's staff page says that his team consists of "software ninjas" and "psychedelic physicists."
But while the possibilities (and the sums involved) are becoming increasingly dizzying, one person has sounded a note of alarm at the escalating hype over the new wave of virtual and augmented reality headsets.
"Until we see the device, you have to be a little skeptical," Brian Blau, an analyst at Gartner, who has closely watched the industry for two decades, told the New York Times.