Hand gun? Man points fingers at LA cops, gets shot dead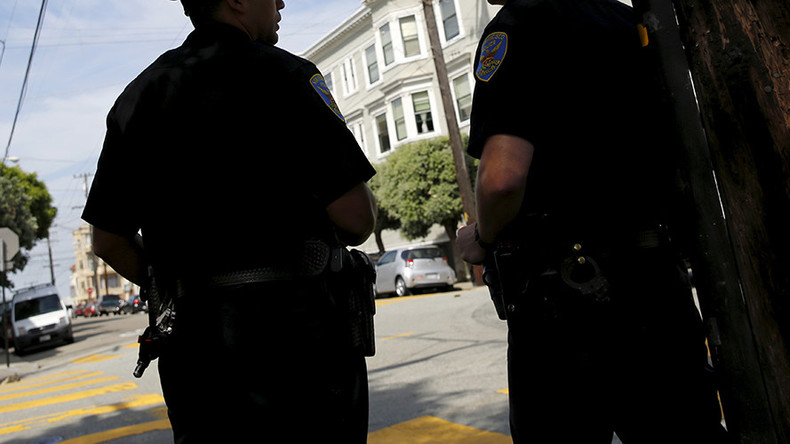 California police officers fatally shot an unarmed robbery suspect, who "took a two-hand shooting stance," while responding to a robbery call in the Florence-Firestone area early Wednesday.
Two deputies from the LA County Sheriff's Department answered a call to a robbery in progress at Gage Street and Holmes Avenue near South Los Angeles. The caller described the perpetrator as a man wearing a black, hooded sweatshirt and shorts.
According to Lt. Eddie Hernandez with the Sheriff's Homicide Bureau, the caller also reported that the man "was armed with a black handgun."
A block short of reaching the supposed crime scene the officers noticed a man standing by a phone booth, whose appearance matched the description. While they were approaching the suspect, he pointed two fingers at them as if he was going to fire a pistol. His gesture was met with a barrage of gunfire, which proved fatal.
"He took a shooting stance, something that you would see in a training film, where you place your hands outside in front of you and bring your two index fingers together, and that's when the deputies fired," said Hernandez, as cited by ABC.
Later the investigation determined that the suspect didn't possess any weapons and no robbery had taken place in the area. What's more, the anonymous tip-off for the felony originated exactly from the phone booth the suspect was standing next to. The latter revelation turned the tragic story in some kind of mystery, as the murdered man was the only one present in this area at the time of the incident.
"The only … inference is he was the one who possibly made that call," said Hernandez, who called the circumstances of the case "suspicious."
Investigators were able to recover security camera footage of the shooting, which may shed light on the details of the incident. The man, believed to be Hispanic, has not been identified yet.
The issue of unlawful use of lethal force has been making headlines since the police killing of unarmed African-American teenager Michael Brown in Ferguson in 2014, which triggered long-awaited police reforms in the city.
READ MORE: Kalamazoo shooter's $10mn lawsuit against Uber is fake, police find
Despite the fact that the topic attracts steady media attention, a 2015 study by the Washington Post and Bowling Green State University - based on public records and interviews with law enforcement, judicial and legal experts - revealed that only 54 police officers had faced criminal charges in all the cases where police shootings led to thousands of fatalities. In the majority of these cases, officers were charged with the murder of an unarmed person. However, the majority of the officers whose cases have been resolved avoided being convicted. Even when they were found guilty, they received short prison sentences, approximately four years behind bars and in some cases only a few weeks in prison.