Sanders enjoys huge night, despite not winning any states
Published time: 16 Mar, 2016 18:12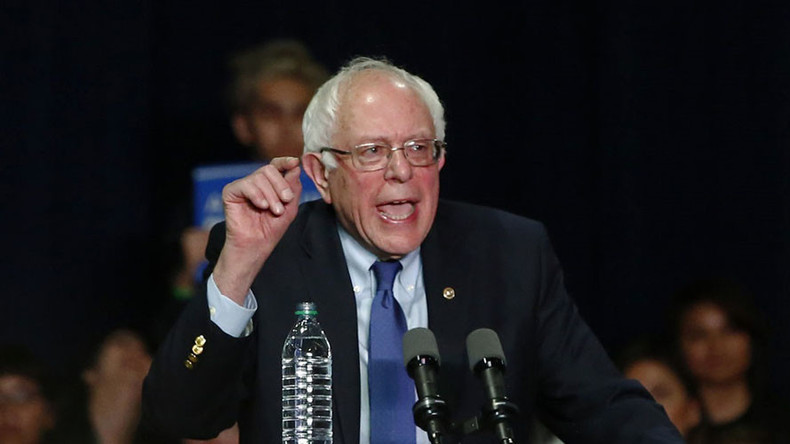 Losing five out of five states in one night would normally be the sign of a struggling campaign, but thanks to the quirky rules of the Democratic primary, presidential candidate Bernie Sanders remains in a good position to surpass his rival Hillary Clinton and become the front-runner.
Clinton may have bagged big wins in Florida, North Carolina, and Ohio on Tuesday, but claimed just a narrow lead in Illinois while there was a virtual tie in Missouri. The two candidates are separated by just a few hundred votes in the Show Me state, a 0.2% gap.
But some pollsters believe Clinton's strongest states are behind her, and Sanders is just getting started.
The remaining states have large proportions of left-leaning independents.
Arizona, Idaho, and Utah will vote on March 22. Primaries in Alaska, Hawaii, and Washington state take place on March 26, while Wisconsin, Wyoming, and New York, the state of where Sanders was born and raised, vote in April.
Dem Presidential Primary 2.0. runs from March 16 - June 7. Almost 700 pledged delegates are chosen on June 7 alone. https://t.co/PkFHxZStIm

— Rep. Alan Grayson (@AlanGrayson) March 16, 2016
Following the money, of the top ten cities contributing the most to the Sanders campaign, six have yet to vote including Seattle, Portland (Oregon), San Francisco, and Los Angeles.
"With more than half the delegates yet to be chosen and a calendar that favors us in the weeks and months to come, we remain confident that our campaign is on a path to win the nomination." Sanders said in his Arizona speech on Tuesday.
Democracy Now reported that major news networks CNN, MSNBC, and Fox played each nominee's Tuesday speech, except for Sanders.
Clinton's won 17 states so far, counting Missouri. Of those, only 7 were states she won in 2008; Obama won the other 10.

— Nate Silver (@NateSilver538) March 16, 2016
Voters in 24 states have yet to cast their choice in the primaries. Clinton has 1094 delegates versus 774 for Sanders, but she increased her lead by just 57 Tuesday night.
With 2,382 delegates needed to win, there is a long way to go.
Clinton also has 467 superdelegates pledges compared to just 26 for Sanders, but they can change their minds as the convention draws closer, meaning those numbers are not set in stone.
A number of upcoming states contain a bounty of delegates that have the ability to drastically change things. California has 545 delegates, New York boasts 291, and Pennsylvania has 210 up for grabs.
Looking at the 2008 Democratic presidential primary race, Obama lost 21 states, whereas Sanders has lost 17 so far. Obama also lost to Clinton in Florida (by 17 points) and Ohio (by 10 points).
While Florida, with its closed primary and older voters, and North Carolina with its high percentage of African American voters, were expected wins for Clinton, she also performed well among non-white voters in Ohio.
"We are moving closer to securing the Democratic Party nomination and closer to winning this election in November," Clinton said in her victory speech in Florida Tuesday.