Protesters swamp Miami outside GOP debate, fight for $15 min wage
Published time: 11 Mar, 2016 18:34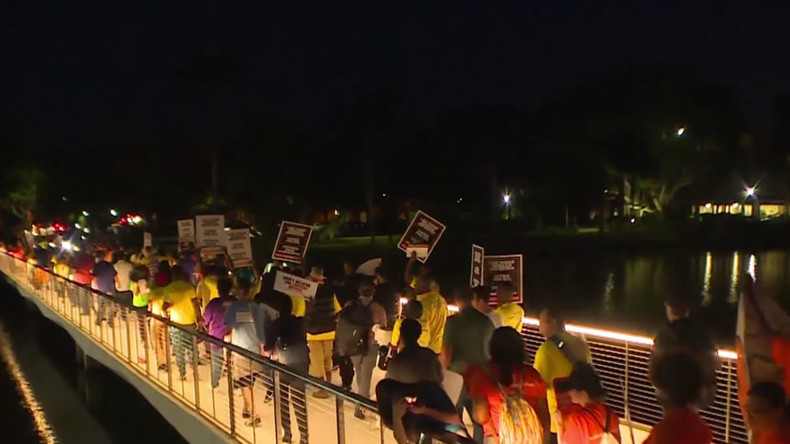 While Republican presidential hopefuls battled to keep their campaigns alive during Thursday's debate in Miami, Florida, hundreds of protesters outside were marching for higher wages – and against the candidates.
The activists streamed through the University of Miami campus, breaking through police lines and causing the closure of Ponce de Leon Avenue near the debate venue.
As they marched through the streets, demonstrators carried signs reading, "We demand $15 and union rights," as well as "Enough is enough, raise wages for a better city." These were accompanied by a challenge to the Republican candidates: "Come get my vote."
"We work. We sweat. For 15 on our checks," protesters chanted, according to the Miami Hurricane. "You want our vote, come get our vote."
As part of the 'Fight for 15' movement, activists want to see lawmakers increase the minimum wage from where it currently stands in Florida, at $8.05. The federal minimum wage is $7.25. Protesters argue that neither is enough for people to survive on, especially considering the rising cost of living.
Wage increase supporters weren't the only people out, though. Some joined the march to express their disgust with the GOP candidates – mostly the real estate mogul Donald Trump, who shot to the front of the pack with highly charged rhetoric about immigration, Muslims and other issues.
"I'm here because Donald Trump is a f***ing a**hole," Vice Mayor of South Miami Robert Welsh said to the Miami Hurricane. "I want to get the word out that maybe in four years Hillary [Clinton] would leave a country where we wouldn't have a country left, but with Trump, after four years we won't even have a planet left."
Accompanying protesters were numerous signs, including one that read, "We need a leader not a fraud."
Trump has also been embroiled in controversy because of endorsements by white supremacist groups, including former Ku Klux Klan leader David Duke.
"I fear more Donald Trump, just because he brings out the fascists in this country," one protester told Ruptly. "In Anaheim recently, you had a KKK rally, a good friend of mine got stabbed."
However, Trump wasn't the only candidate targeted. One protester carried a donkey piñata featuring an image of Texas Senator Ted Cruz plastered onto its buttocks. Another held a sign featuring the faces of Trump, Cruz, and Florida Senator Marco Rubio that read, "Not my president."