'Godly, gorgeous, virgin': Dad posts creepy ad in Christian magazine seeking husband for daughter
Published time: 9 Mar, 2016 13:32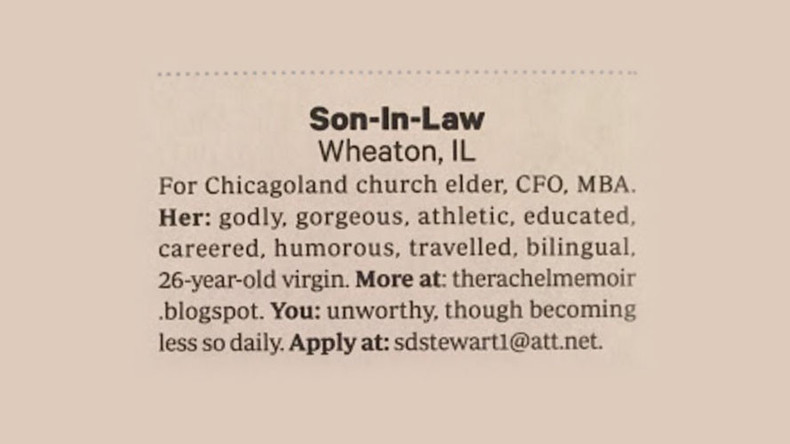 A leading Christian magazine in the US pulled one father's creepy personal ad he secretly posted in search of a husband for his "godly, gorgeous, 26-year-old virgin" daughter.
Awkward!
To heighten the outrage, the ad was posted in the jobs section with the position simply titled "Son-In-Law".
"Her: godly, gorgeous, athletic, educated, careered, humorous, travelled, bilingual, 26-year-old virgin. You: unworthy, though becoming less so daily," read the ad.
I just … how did CT let this happen? No one thought, "Huh, this isn't quite fitting with our vision and mission."

— Preston Yancey (@prestonyancey) March 3, 2016
Those interested in marrying someone who has a wildly-inappropriate father were told they could get more information at therachelmemoir.blogspot, which has since been removed, or send him an email at sdstewart1@att.net.
The woman described in the ad was named Rachel Stewart and, according to a now-deleted blog post, she took it all in good humor, even though she was unaware her father had sent it in.
"At least it's appropriate they placed it in the Employment Opportunities section," she wrote. "Putting up with this father-in-law's shenanigans is a full time job, without any paid vacation."
Not everyone was impressed with the ad being published though.
The magazine issued an apology for printing it, stating it was "demeaning and in poor taste" and noting "some changes" made to their ad review process.
For Rachel, however, her concern now is that if a suitor is not found soon, her father may resort to more drastic measures.
"I'm just nervous if this doesn't work out, next I'll find my face plastered on a billboard," she joked on her blog. "Oh gosh, now I'm giving him ideas."
READ MORE: Child rape loophole: US state seeks to ban underage brides