Child rape loophole: US state seeks to ban underage brides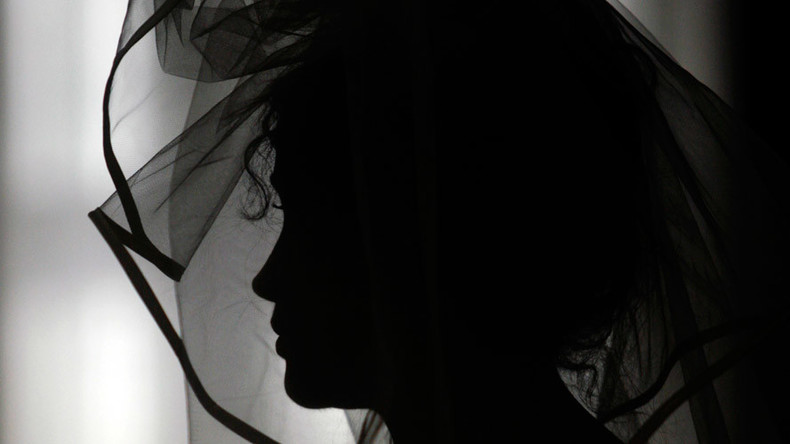 Girls as young as pre-teens are legally able to marry in the US state of Virginia if they are impregnated by their future husband, but now a new bill that just passed the legislature would ban the controversial tradition.
Although they can't buy alcohol, smoke, vote, or consent to sex, girls old enough to bear children can enter a lifelong commitment of marriage.
The new legislation would establish a minimum age for marriage at 18, with an exception for 16 and 17-year-olds who are legally emancipated from their parents. Bill 415 passed the state House Monday by a vote of 65-29 after passing the Senate last month.
The former Confederate state allows men of any age to marry a girl at any age, as long as she is pregnant and has parental consent.
Four 13-year-olds and 24 14-year-olds, were granted marriage licenses between 2000 and 2013, rather than receive protection from the state's Child and Family Services department.
4,500 minors in total were wed in Virginia during those 13 years, with nearly 220 under the age of 16.
Ninety percent of those married underage were girls - and 90 percent of them married older adults, according to Tahirih Justice Center.
Thirteen children under 15 are currently married to spouses more than 20 years older than them. In 2013, nine brides were aged between 14 and 15 in Virginia. All were white.
Virginia state Senator Jill Vogel decided to push for the bill after hearing about a man in his 50s in Middleburg who married a teenage girl to avoid questions from authorities. The girl's mother gave consent, according to AP.
"We make sex with a child under 16 a crime, so it aligns our marriage laws to that so you don't have situations where young girls are being married off into an abusive relationship," said Richmond Democrat Jennifer McClellan, who sponsored companion House Bill 703.
Marriage applications for minors are currently filed with court clerks with no judge involvement. The new bill would require minors to go through a family court judge.
The bill seeks to address the issue of coercion or forced marriage, with parental consent no longer being enough to allow a child to be married off.
Parents can be the ones who are forcing their children into marriage, in order to avoid the "shame" of 'bastard' grandchildren and the possibility of abuse by an older predator.
The age of consent in Virginia is 18, although some states are as low as 16.
Although marital rape has been made illegal in the States since 1993, a husband in Virginia can avoid prosecution if he goes to counseling.
One of the senators who voted against the bill to end child marriage, Robert Black, previously argued against criminalizing spousal rape in 2002.
The issue of marital rape made its way into the 2016 presidential election after one of Donald Trump's lawyers, Michael Cohen, said, "you can't rape your spouse."
Trump denounced Cohen's statements and tried to distance himself from the lawyer, even though Trump's ex-wife Ivana used the word "rape" to describe an incident between them during a divorce deposition more than 20 years ago, an incident Trump denies.
Here is the list of the Virginia politicians who voted against the ban on underage marriage and legal rape, according to the Virginia legislature website.
Senate: Black, Deeds, Edwards, Locke, Newman, Petersen, Surovell
House: Adams, Austin, Bell, Richard P., Byron, Cline, Cole, Cox, Dudenhefer, Edmunds, Freitas, Garrett, Gilbert, Head, Helsel, Jones, Kilgore, Landes, LaRock, Marshall, D.W., Marshall, R.G., Morris, O'Quinn, Pillion, Pogge, Ransone, Rasoul, Taylor, Ware, Wright
You can share this story on social media: