Flint crisis 'a catastrophe': Families file class-action lawsuit over poisoned water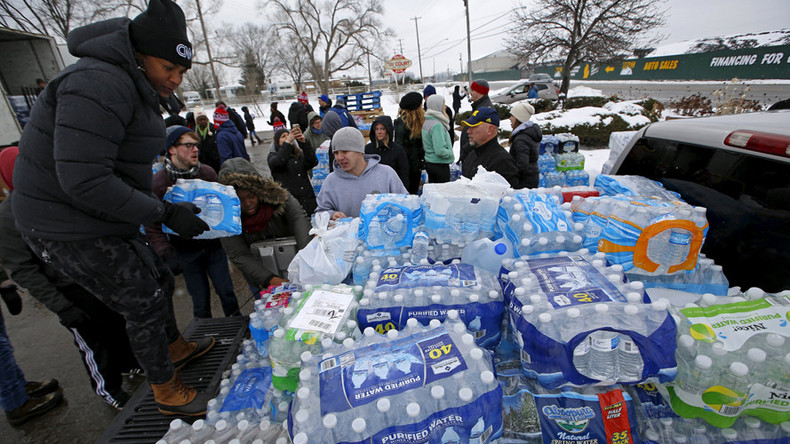 Seven families from Flint, Michigan filed a class-action lawsuit Monday against Governor Rick Snyder, as well as other city and state officials, over the crisis involving lead-poisoned water, claiming their children suffered irreversible brain damage.
The lawsuit claims that Michigan officials violated the Safe Drinking Water Act and the Environmental Protection Agency's Lead and Copper Rule. While not the first class-action lawsuit over the crisis, it is the first to be brought over violations of the Safe Drinking Water Act.
"Lead poisoning is an insidious disease process. You don't look at a child and say, that child is lead poisoned," said Hunter Shkolnik, one of the attorneys representing the families, in a phone interview with RT. He called the situation "a catastrophe."
"These children are brain damaged. It's just a matter of time before you see how it manifests itself for that child. A lot of people are quick to say the children look fine. Looks are deceiving," Shkolnik added.
The lawsuit is seeking a jury trial and compensation for all families affected by the contaminated water. So far, seven families and upwards of 20 children are represented, but Shkolnik said his team is screening another 900 clients. The lawsuit itself states "tens of thousands" of residents were affected.
"The tragedy is still unfolding," Shkolnik said. "We don't know how many children and families are involved."
The list of damages sustained by the minors described in the lawsuit include: physical and psychological injuries, learning and other permanent disabilities, weight loss, stunted growth, anemia, headaches, abdominal and other pain, mental anguish, and emotional distress, among others.
One mother listed as a plaintiff, 33-year-old Melissa Lightfoot, said her three children were exposed and suffered from issues such as hair loss, rashes, digestive problems, seizure-like convulsions, plus high lead and copper levels in their blood and brains.
"I was scared," Lightfoot said in an interview with NBC News. "My kids are getting poisoned from something that's a necessity and as a parent there's nothing I can do to help them. It's already in them, I can't take it out, and there's no medicine for it."
Another plaintiff is said to have tested for an elevated blood lead level of 30 micrograms per deciliter, one of the highest recorded in Flint. According to the Centers for Disease Control and Prevention, anything 5 micrograms per deciliter and above is considered "elevated," but there is no level in children that is considered safe.
Dr. Hanna Mona-Attisha, a local pediatrician whose research helped expose the crisis last year, previously told RT that the highest readings recorded were 38 micrograms per deciliter. Brain damage caused by lead is irreversible, though its effects can be alleviated with proper nutrition and medical care.
The water crisis in Flint began in 2014 after the city, run by a state-appointed emergency manager at the time, decided to switch its water source from the system run by Detroit to the Flint River in a cost-cutting measure. The corrosive water was not treated properly and leached away lead from city pipes as it was delivered to homes and other buildings.
Despite immediate complaints from residents about dirty, smelly water, officials insisted it was safe for consumption for about a year and a half, until research by activists and the medical community exposed the situation.
According to the lawsuit, city and state officials knew about the dangerous lead levels in 2014, but violated federal law by not doing anything to eliminate the risk. It also states "they actually took affirmative steps to downplay the severity of the contamination from its citizens."
A spokesman for Governor Snyder told the Associated Press that it does not comment on pending litigation, adding that the administration is "staying focused on solutions for the people of Flint."
In addition to the lead water crisis, Flint also experienced an outbreak of Legionnaires' disease, which sickened 87 people and killed nine. That outbreak has been linked by some to the water issue, though that has not been conclusively confirmed.
"I have not seen anything of this magnitude, ever," Shkolnik told RT. "It's an irreversible situation."