Flint fallout could cost US $300bn in infrastructure upgrades to replace all lead pipes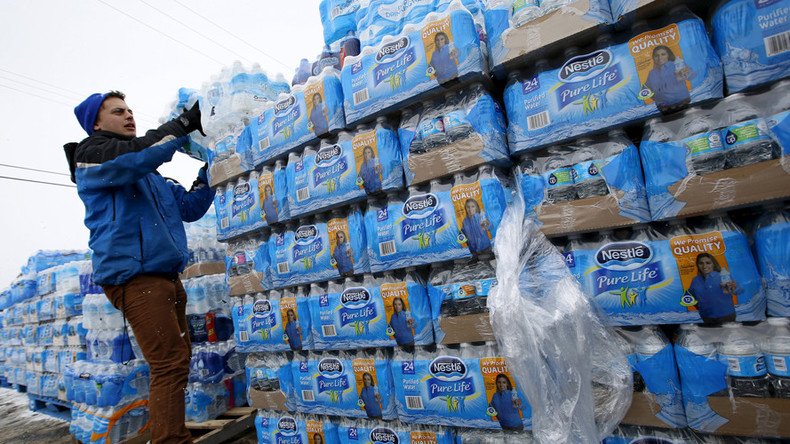 The Flint water contamination scandal could result in stricter rules and potentially cost water utility companies nationwide some $300 billion in infrastructure upgrades to remove all lead pipelines to insure the quality of H2O provision for American households.
Fitch Ratings study said that the Flint, Michigan water mayhem could potentially force water utility companies to replace an estimated six million lead service lines across the country if the Environmental Protection Agency enforces stricter regulations because of the crisis. The cost for such an overhaul is estimated by Fitch to exceed $275 billion.
"The EPA currently regulates drinking water exposure to lead based on its Lead and Copper Rule, which seeks to minimize lead in drinking water primarily through corrosion control of lead pipes. If corrosion control is not effective the rule can require water quality monitoring and treatment, corrosion control treatment, the removal of lead lines and public education," Fitch said
The improved infrastructure costs however could run much higher as EPA's recent survey said that the water industry will need to spend $385 billion by 2030.
While utility companies are now focused on evaluating their existing treatment methods and educational outreach, the US watchdog might be forced to mandate an overhaul of the water supply system, because of endless legal battles filed against Flint, MI and Chicago, IL.
At least a dozen lawsuits have been filed in local, state and federal courts on behalf of Flint residents who drank lead-tainted water for nearly two years. The complaints name a long list of state and local agencies and officials who are believed to be responsible for the water crisis.
"In light of these lawsuits and the heightened public focus on possible lead contamination, Fitch expects any proposed rule revisions will likely move the industry toward removing all lead service lines," the rating agency said. "Re-prioritizing and accelerating lead pipe replacement would add significant additional capital needs to the sector and could compete with other critical infrastructure projects, including developing sufficient long-term water supplies and replacing aging infrastructure components other than lead lines."
Water problems in Flint began in April 2014, after the city switched its water source from Lake Huron as well as the Detroit River to the Flint River as a cost-saving measure. Almost immediately, residents levied complaints about the smelly, discolored and disgusting fluid that was now flowing into their households.
In Flint, up to 12,000 children have been exposed to drinking water containing high levels of lead. The water change was named as a possible cause of an outbreak of Legionnaires' disease in the county that has killed at least 10 people.
While the city remains under the federal state of emergency, Governor Rick Snyder issued an apology and allocated millions towards medical care and infrastructure upgrades.
You can share this story on social media: