MI gov. to release all Flint water emails as WH, class action lawsuits get involved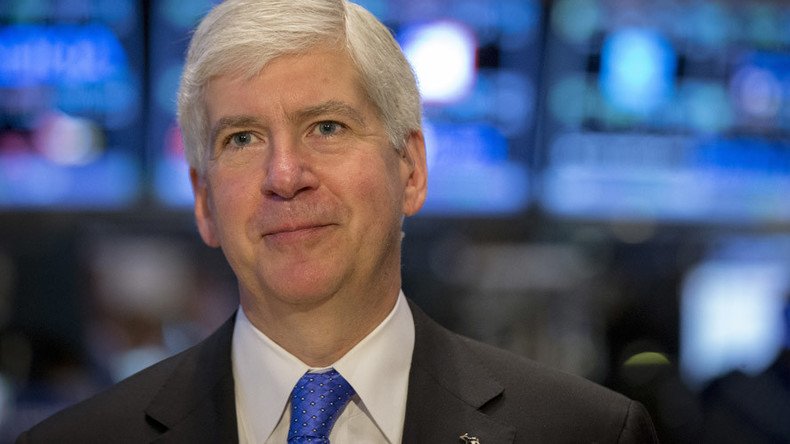 Michigan Governor Rick Snyder apologized to Flint residents again Tuesday, saying they "deserved better," that state agencies had a leadership failure, and that they got the lead-contaminated water crisis "wrong." He pledged to release all emails related to the issue.
A state of emergency has been declared on the local, state and federal levels because of the contamination, and several class action lawsuits have been filed against the state for its slow response to the crises.
"We are praying for you, we are working hard for you, and we are absolutely committed to taking the right steps to effectively solving this crises," Governor Snyder told the residents of Flint during his state of the state address before lawmakers at the state capitol in Lansing on Tuesday. "I'm sorry, and I will fix it."
In his sixth state of the state address, Snyder devoted half his speech to the water crisis in Flint. He asked state lawmakers for $28 million more in the short term, announced the deployment of more National Guard members to the city to make sure every household is visited to ensure they have water filters, and promised to release his emails regarding the crisis.
Snyder said he will also appeal President Barack Obama's denial of a federal disaster declaration for the area.
"We need to make sure this never happens again in any Michigan city," said Snyder. "I give you my commitment that Michigan will not let you down."
Earlier on Tuesday, Michigan budget officials recommended $28 million in supplemental funding to aid in Flint, sending the request to the House and Senate Appropriations committees. The money would be earmarked for bottled water, water filters, treating people with elevated lead levels in their blood, and a study assessing the infrastructure that supports Flint's water system.
Flint's water contamination crisis began when corrosive water from the Flint River caused lead to leach from old lead pipes into homes, after the city – under a Snyder-appointed emergency manager – switched from Detroit's water system to save money in 2014. Tests later showed high levels of lead in the blood of some local children. Flint returned to Detroit water in October 2015, but many residents are relying on bottled water.
Snyder said the emergency funding would address the Flint water crisis in six ways, including health treatment for affected children, and replacing faucets and other fixtures in all of the city's schools and day care centers.
Additional filters, replacement filters and bottled water for residents would also be delivered, as well as financial assistance to Flint utilities to alleviate the need for the city to send out water shutoff notices to residents not paying their bills. Early testing has suggested that once the fixtures are replaced, elevated lead-levels in the water drop into the safe zone, according to the Detroit Free Press.
Two new class-action lawsuits were also announced on Tuesday, on behalf of four Flint families that named Governor Snyder, the Michigan Department of Health and Human Services, the state Department of Environmental Quality and several government officials, according to the Detroit News.
One lawsuit sought a preliminary injunction against the city of Flint over planned water shutoffs and to declare Flint users be exempted from past and future water bills. The other lawsuit sought to hold the state financially accountable for what was described as a "man-made catastrophe." Both complaints argued he Health Department knew about the elevated lead levels in blood but "sat on the information for more than 10 months."
"Tens of thousands of Flint residents were unnecessarily injured and hundreds of millions of property damage resulted due to the deliberate indifference of a handful of state, city and county officials," said attorney Michael Pitt, co-counsel in the complaints, according to the Detroit News. "Public officials must never again be permitted to give assurances to the public about public health conditions when they know the assurances are false."
You can share this story on social media: