'Act of desperation': Mexican drug lord El Chapo asks for extradition to US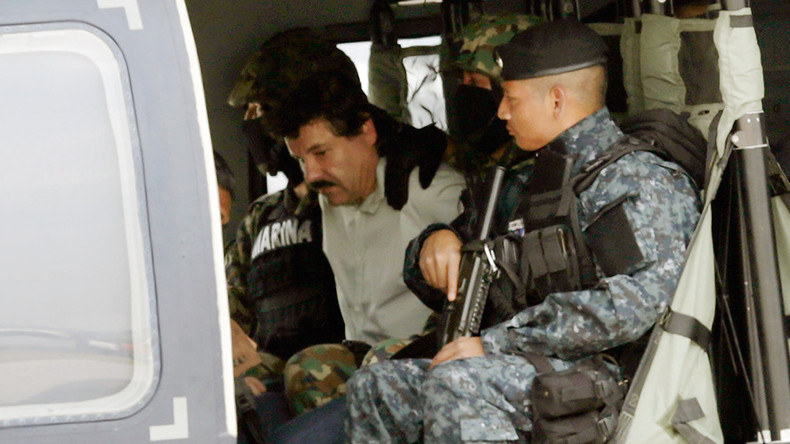 Mexican drug lord Joaquin "El Chapo" Guzman wants to be extradited to the US as soon as possible, describing the conditions at his prison as "almost torture."
El Chapo ("Shorty") has reportedly complained that he can't stand to remain in the Mexican maximum-security prison because guards there will not let him sleep, waking him every couple of hours.
"He has reached the limit," Guzman's attorney, Jose Refugio Rodriguez, told Mexico's Radio Formula. "It is an act of desperation."
Rodriguez said the drug lord asked him to try to broker an extradition deal with the United States in exchange for better prison conditions in a medium-security facility and a lighter sentence.
The lawyer said he saw Guzman on Tuesday when the drug lord "pleaded with me to look for the quickest way possible of processing extradition because he can no longer stand the situation he's experiencing," Rodriguez told the newspaper Reforma.
It is a major change of mind for the Sinaloa Cartel kingpin, as he previously instructed his lawyers to file motions preventing him from being turned over to the US.
Guzman's wife, Emma Coronel Aispuro, has approached media and human rights organizations to make a case that her husband was being "tortured" in prison. In an interview with Telemundo, Coronel said that Guzman suffered from high blood pressure and was given no privacy, "not even to go to the bathroom."
The Altiplano maximum-security prison, outside Mexico City, has been keeping a keen eye on El Chapo ever since his recapture in January this year, because of his spectacular escape from the same facility nearly six months prior.
It is believed that Guzman's daring escape in July 2015 – using a mile-long tunnel that opened into his shower, and took his confederates 17 months to complete – was motivated by a US request for extradition.
Washington has submitted formal requests for Guzman's extradition in June and again in August 2015. He is wanted north of the border on charges of criminal conspiracy, drug smuggling, racketeering, money laundering, homicide and weapons possession.
El Chapo is considered Mexico's biggest drug lord, and may well be the biggest drug lord of all time, according to the US Drug Enforcement Administration (DEA). In the agency's estimation, Guzman surpassed the infamous Colombian "cocaine king" Pablo Escobar in 2011.