Drunk driver, disgraced detective die overnight at Ohio jail
Published time: 24 Feb, 2016 02:28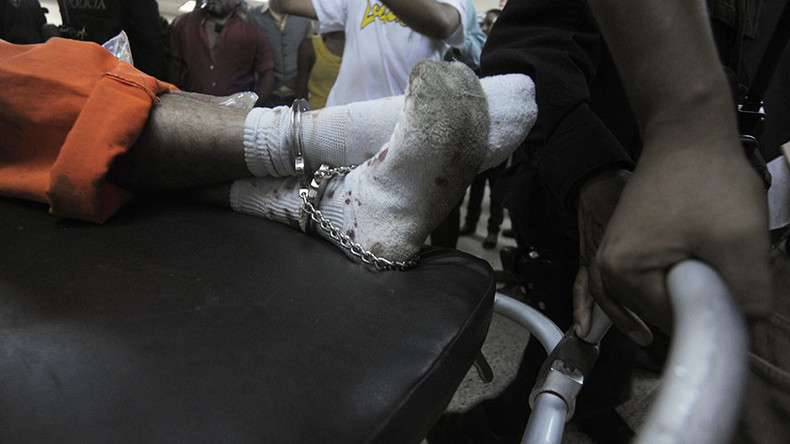 Two inmates died in the same night at Delaware County Jail, north of Columbus, Ohio. One was a former detective who was facing federal charges for possession of drugs with intent to distribute. The other was serving time for drunk driving.
Tye Downard, 43, hanged himself early on Monday morning after being arrested for selling drugs that he had seized as a law enforcement officer. The former member of the Franklin County drug task force was facing up to 20 years, WSYX reports. Authorities claim that he had pocketed $35,000 from drug sales.
Downard had not been placed on suicide watch and was found unresponsive during a routine hourly check.
Downard's arrest and death has not only affected his loved ones, but the entire police department. Franklin County Prosecutor Ron O'Brien told the Columbus Dispatch that his office was auditing cases in which Downard had participated since 2013 and had found 50 cases requiring additional review so far. In addition, federal documents state that Downard had mentioned working with "others," according to the Columbus Dispatch.
Rhianna Michelle Filichia, 28, was the second inmate found dead at the jail that night. Court documents discovered by The Delaware Gazette found that she had been serving jail time on a work-release program after being convicted of operating a vehicle while intoxicated in July of 2013.
The terms of Filichia's work-release allowed her to go to her job during the week, but she had to report back to the county jail on the weekends. After she failed to show up last week, a warrant was issued for her arrest. She was taken into custody on Saturday. Her mother, Teresa Berry, reportedly told authorities that Rhianna had not reported to jail due to a medical emergency. Berry also claims that Filichia's fiancée begged the arresting officers not to take her due to medical issues.
The details of Filichia's death have yet to be announced aside from it being "related to a medical issue." Berry told the Gazette that her daughter had had surgery in December related to diverticulitis, an intestinal condition, but had still experienced medical problems following the procedure.
Berry also told the Gazette that a staff member at the Delaware County Jail claimed to have noticed that Filichia had been ill, had struggled to swallow pills, and was vomiting a green substance.
Illness-related deaths were responsible for half of inmate deaths in local jails across the US in 2013, while suicide has been the leading cause of jail deaths since 2000, according to the Bureau of Justice Statistics.
County Sheriff Russell Martin told the Delaware Gazette that this officers "prevent, on average, five suicide attempts each year" in the same jail where Downard killed himself.
The number of inmates dying in police custody rose for the third year in a row in 2015. Six African American women died in jail in July 2015 alone, of which very few had spent more than two days behind bars, and most were being held for minor charges.
One notable case was that of Sandra Bland, an activist detained in Texas who was found hanging in her jail cell. The authorities ruled Bland's death a suicide, though her family has filed a wrongful death lawsuit. The state trooper who arrested Bland was fired and charged with perjury six months after the incident.