Texas trooper who arrested Sandra Bland indicted for perjury, fired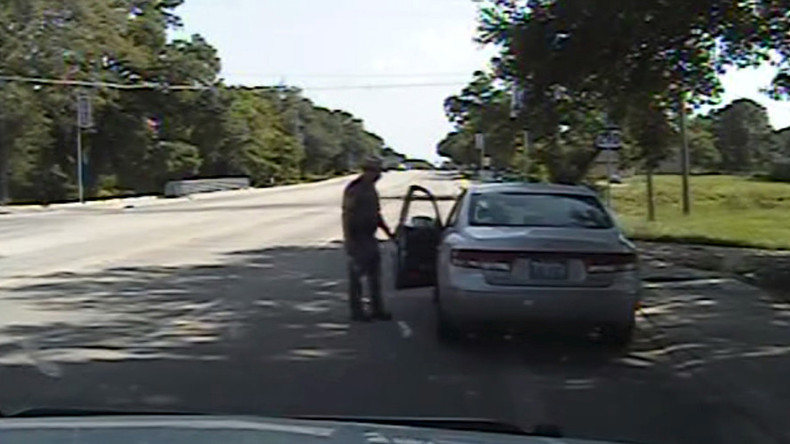 A Texas grand jury has indicted the trooper who arrested black activist Sandra Bland on July 10, 2015. The Waller Country grand jury indicted Public Safety Trooper Brian Encinia on perjury charges. Encinia was later fired by the department.
Sandra Bland, 28, was driving in Waller County when she was pulled over the by the Texas Department of Public Safety Trooper for allegedly making an incorrect lane change. Encinia intended to give her written warning, but claimed she became uncooperative and argumentative. He arrested her and took her to jail.
Three days later she was found hanging in her cell. A medical examiner ruled her death a suicide caused by asphyxiation.
Special prosecutor Darrell Jordan said the charge of perjury is a Class A misdemeanor, which is punishable by up to a year in jail and a $4,000 fine, The Houston Chronicle reported.
The charge stemmed from a statement Encinia made in his report of the incident, which alleged that he pulled Bland out of her car to continue the investigation. Local KVUE reported Encinia is accused of lying about how he removed Bland from her vehicle.
"They just didn't believe it ... a warrant will be issued and we'll go from there," Jordan said, according to the Chronicle.
Recorded footage of the arrest showed an increasingly confrontational encounter between Bland and Encinia, with the police officer at one point brandishing a stun gun and yelling at Bland, "I will light you up!"
Hours after the indictment, the Texas Department of Public Safety said it would "begin termination proceedings" against Encinia, according to the Associated Press.
After the video surfaced of Encinia's confrontation with Bland, he was placed on administrative duty for violating the standards of the Texas Public Department of Safety.
A grand jury convened in December to review the circumstances surrounding Bland's detention and death, and declined to issue any indictments against jail staff or members of the Waller County Sheriff's Office.
Bland's relatives, who were outraged about the lack of an indictment in December, have filed a wrongful death lawsuit in federal court against Encinia, DPS, Waller County and county jailers Elsa Magnus and Oscar Prudente. A trial date is set for January 2017, according to the Houston Chronicle.
You can share this story on social media: