Sex toys and sumo challenges: Odd moments in Oregon standoff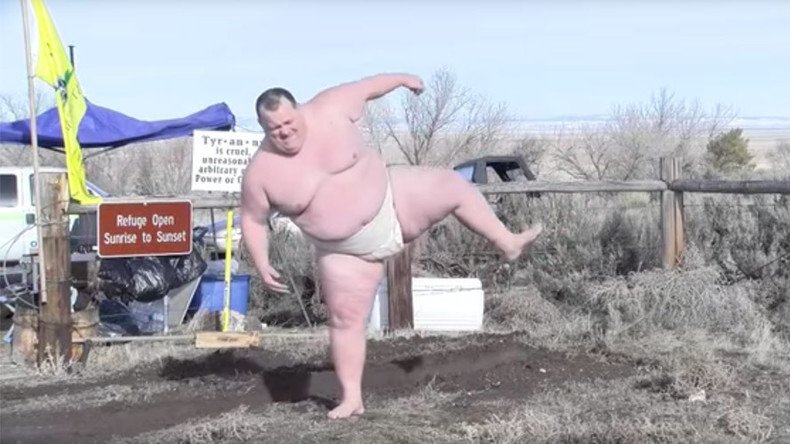 As multiple members of the armed militia, including the Bundy brothers, were arrested by federal agents, their occupation of the Malheur National Wildlife Refuge has dwindled to a few ranchers. RT looks at the odd, awkward moments of this not-quite siege.
What's in a name?
A group of armed men, led by the sons of a Nevada rancher who defied federal authorities in 2014, took over a federally owned bird sanctuary 30 miles south of Burns, Oregon on January 2. Initially nameless, the group started calling itself "Citizens for Constitutional Freedom." The media struggled to describe them; were they militants, militia, armed protesters, activists, or even terrorists?
The AP quickly abandoned the use of "militia" in favor of "armed men" or "armed ranchers," explaining that the term "militia" would be confusing to international audiences.
Social media users were less concerned about impartiality, quickly dubbing the occupiers "Vanilla ISIS" – a reference to the terror group occupying portions of Syria and Iraq – or "Y'all Qaeda," associating an expression from the southern US with Islamic terrorism.
Message in a bag… of sex toys
When local and federal authorities chose not to escalate the situation, keeping their distance rather than mounting an assault against the group, opponents of the occupation began expressing their displeasure with something more than words.
Seizing on the militia's request that their supporters send snacks and packages with supplies, critics began sending boxes of sex toys to the refuge instead. Calling it "hate mail," militia member Jon Ritzheimer posted a video on Facebook complaining about the special "care packages."
"They spend and waste their money on all this hateful stuff to send out here to us, and buy this ridiculous stuff, even this one was really funny, a bag of d**ks," he said in a January 13 recording, which has since been taken down by Facebook.
To go along with the sex toys, the refuge received a 55-gallon drum of personal lubricant, courtesy of Max Temkin, co-founder of the popular party game 'Cards Against Humanity.'
The armed men did not find it funny, but everyone else did.
Trial by (sumo) champion
As the phantom standoff entered its fourth week, one of the militia members offered to settle the dispute man-to-man – through sumo wrestling.
Standing in front of the entrance to the refuge, with the militia signs and flags in the background, Kelly "Man of Fat Steel" Gneiting challenged his "little brother" Chris Christie to ten sumo bouts to settle the dispute once and for all, promising that if Christie could "win one bout… the Oregon Occupation will disperse."
Christie is the governor of New Jersey and one of the candidates for the Republican presidential nomination and is in no way related to either Gneiting or the siege at Malheur. Though he is only polling in single digits, he apparently did not think taking Gneiting up on his offer would help his numbers, as he did not respond to the challenge.
Federal authorities also ignored the 400-pound, five-time sumo champion's proposal. On Tuesday evening, they arrested Ammon and Ryan Bundy and six of their supporters, while setting up a blockade on the roads leading to the refuge. One of the occupiers, identified by media outlets as Robert 'LaVoy' Finicum, was shot and killed.
You can share this story on social media: