Court denies bail to Ammon Bundy & 3 others as Oregon occupation continues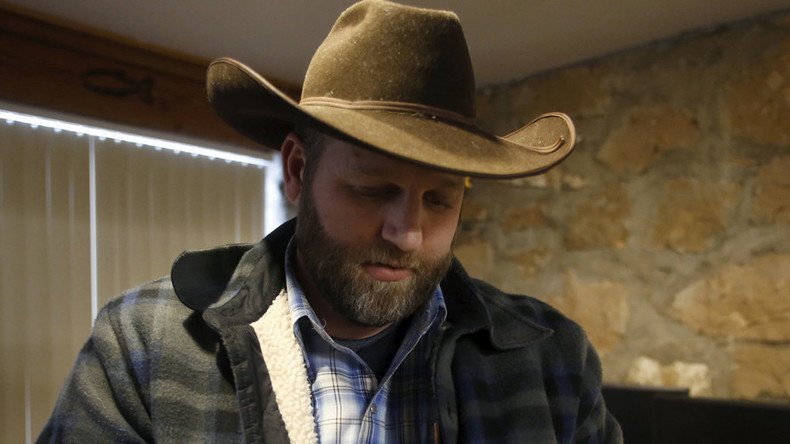 A federal court judge in Portland has denied bail to Ammon Bundy and three of his cohorts as the occupation of a federal wildlife refuge building in Burns, Oregon continues. The FBI says four people remain there as the protest hits its fourth week.
The leader of the group of armed men that occupied the Malheur National Wildlife Refuge, Ammon Bundy, as well as his brother Ryan, Brian Cavalier, and Ryan Payne, were all denied release on Friday. US Magistrate Judge Stacie Beckerman said that they posed a danger to public safety and were considered a flight risk, as she was concerned they would not follow orders to return to Oregon for criminal proceedings.
She also stipulated that they would be released only if the standoff ended, according to the Associated Press
"So long as that situation is ongoing, I'm not going to release anybody from custody," Beckerman told the court on Thursday, reported the Oregonian.
Bundy and other members of his band of occupiers were arrested on Tuesday in a confrontation with law enforcement that left one of the group dead.
The ranchers had occupied the refuge since January 2, demanding that the federal government turn public lands over to local control and complaining about what they said were onerous federal rules governing grazing and mining rights across the West. They also expressed anger over the sentences of two Oregon ranchers convicted of arson under a terrorism law for setting fires on their own land that touched over to federal property.
Four holdouts, three men and one woman, remain at the refuge near Burns. They posted a YouTube video on Friday demanding pardons for everyone involved in the occupation.
At the 1:20 mark in the video, a speaker believed to be David Fry said he had asked the FBI whether it was possible to "get out of here without charges," complaining "they keep saying they 'can't drop the charges,' they 'didn't make the charges,' they 'can't speak to the people who made the charges,' so 'that's not possible."'
The video shows Fry standing by a campfire in the rain, surrounded by water bottles and other supplies.
"So they just want to separate us and get us all home so they can pick us off one by one at our houses without being stuck together in groups with the guns. That's what they don't want. They want us to be separated," he added.
FBI spokeswoman Beth Anne Steele told AP that "nothing at all" had happened overnight at the refuge, and that she wouldn't discuss any strategic decisions planned for Friday.
In a Friday court filing, prosecutors said Ammon Bundy, his brother Ryan, and other occupiers "have long been associated with armed conflicts with the federal government and have repeatedly rejected the authority of the federal government, making them unsuitable for court-ordered supervision," according to The Oregonian.
As an example, they cited the participation of Ammon Bundy and others in an armed standoff with the government over grazing rights, which was led by the Bundys' father, Nevada rancher Cliven Bundy.
The charges against the defendants state that the refuge's 16 employees have been prevented from reporting to work because of threats of violence
Ammon Bundy's lawyer told the court that her client was "not an anarchist; he believes in government," that he was not aligned with those remaining at the refuge, and wants to go back to his family in Idaho.
"He is done in Harney County; his message has been sent," she said, according to the AP.
You can share this story on social media: