'Stop sending us dildos': Armed militant in Oregon reacts to 'bag of d**ks'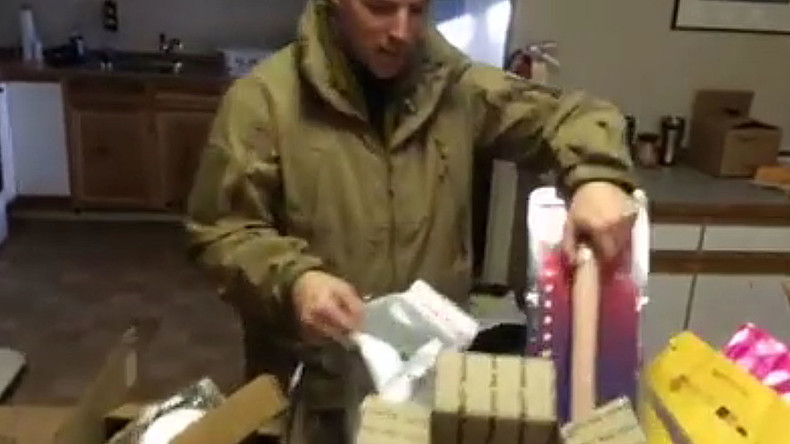 Opponents of the men currently occupying a federal building in Oregon are using the weapon of humor and ridicule by sending dozens of dildos and other penis-shaped presents to the armed militants.
Calling it "hate mail", "militia" organizer Jon Ritzheimer is refusing to bend over and take it, after posting a video on Facebook complaining about the special 'packages'.
"They spend and waste their money on all this hateful stuff to send out here to us, and buy this ridiculous stuff, even this one was really funny, a bag of d**ks," Ritzheimer said. "For the rest of you 'patriots' out there, twiddling your thumbs, wondering whether or not you should come out, well, now's the time."
The Oregonian newspaper described his video rant as a "tantrum."
This week, an Oregon judge says he will "send Mr Bundy the bill" for security costs of $60,000 to $70,000 per day, referring to the group's leader Ammon Bundy.
READ MORE: 'Send Mr Bundy the bill' Judge wants Oregon militia to pay $70k a day for security costs

Ritzheimer is a former Marine and Iraq War veteran who reportedly sponsored a drawing contest in Arizona of Islamic Prophet Mohammed and operates an ecommerce website called Rogue Infidel which sells "F**k Islam" T-shirts and bumper stickers.
He was discharged by the military for violating its tattoo policy and says he supports Donald Trump in the 2016 US presidential race.
Trump said last week that he believes the self-proclaimed "patriots" should stand down.
"You have to maintain law and order, no matter what," Trump told The Hill.
READ MORE: 'We may be breaking codes, but not supreme law of the land' - Bundy (EXCLUSIVE)