Video of Denver inmate dying at hands of deputies raises calls for federal investigation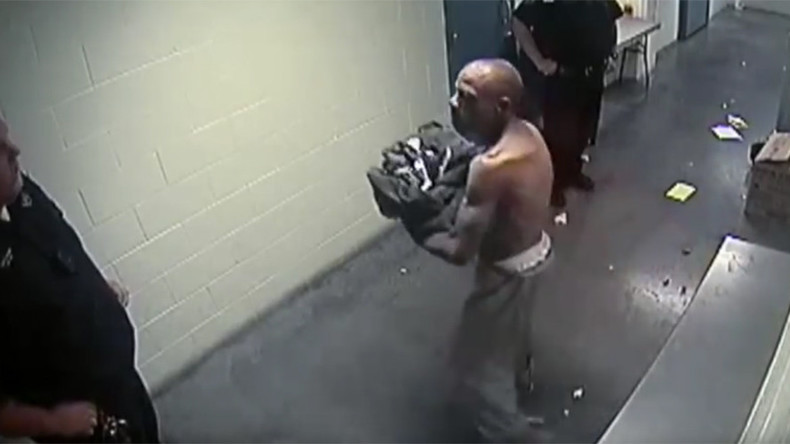 Restraining practices have been called into question since Denver released a video showing the last moments a homeless man who died face-down while being restrained by five deputies. His family is now calling for a federal investigation into the incident.
The release of the video, which runs for more than 45 minutes, comes after Denver District Attorney Mitch Morrissey said last week that he would not bring charges against the officers responsible for Michael Marshall's death while in custody in a jail.
READ MORE: Inmate's brutal death at NY prison highlights lack of accountability – report
"There is no evidence suggesting any force was used for the purpose of harming Mr. Marshall," Morrissey said.
A medical examiner's report determined that the death of 50-year-old Marshall, who had been jailed for trespassing, was caused by "complications of positional asphyxia, to include aspiration pneumonia, due to being physically restrained by law enforcement during an acute psychotic episode."
The tactic of restraining someone in a face-down position can be lethal, especially with people having mental illness, whose distress can be interpreted as resistance, leading to more pressure being applied.
After getting up from a bench and refusing to sit down, the video shows Marshall being tackled by three deputies. He is held to the floor for 13 minutes before being put into a restraining chair. Nurses then realize that the 5-foot-4, 112-pound man wasn't breathing and perform CPR. He later died at a local hospital.
"He didn't try to hurt anyone. He wasn't threatening," his niece Natalia Marshall said, according to AP. "And for them to forcefully restrain him the way they did and brutally murder him just because of the fact that he was trespassing? Is beyond my thoughts."
Darold Killmer, the attorney for the Marshall family, was filled with a similar sense of injustice after seeing the video.
"Five or six Denver deputies went hands on, took him to the ground and within a matter of minutes, killed him," Killmer said, according to KMGH. "It's an outrage that a District Attorney, or anybody, could believe this is a reasonably response to no emergency whatsoever – and Michael Marshall is dead because of it."
Surrounded by faith leaders and the Marshall family at a press conference that followed the announcement that the district attorney would not indict the deputies involved, Killmer called on US Attorney General Loretta Lynch to investigate Denver law enforcement.
However, he added that he wasn't surprised by District Attorney Morrissey's decision.
"Mr. Morrissey has never held Denver law enforcement accountable for any killing that occurred at their hands, ever," he said.
The Department of Justice has issued a warning against the use of the restraint tactic employed by the deputies, which notes that holding person against the floor face-down can cause "positional asphyxia."
"As soon as a suspect is handcuffed, get him off his stomach," a 1995 DoJ bulletin says, according to AP.
This is far from the first time a detainee has died under such circumstances.
In 2011, Ethan Saylor, a 26-year-old man with Down syndrome, died of asphyxiation when deputies used the technique on him in a Maryland movie theater. In 2014, Robert Minjarez Jr., a chronic cocaine user, died when police restrained him in a prone position as he complained that he couldn't breathe. In 2015, a mentally ill woman named Tanisha Anderson also died from being held face-down by police after she had attempted to escape a patrol car.
Perhaps the most high-profile incident involving the tactic was the death of Eric Garner, a black man who was put in a chokehold by the NYPD in 2014. The coroner said that "prone positioning during physical restraint" was a contributing factor in Garner's homicide, which became a symbol of injustice for the Black Lives Matter movement.
You can share this story on social media: