Inmate's brutal death at NY prison highlights lack of accountability – report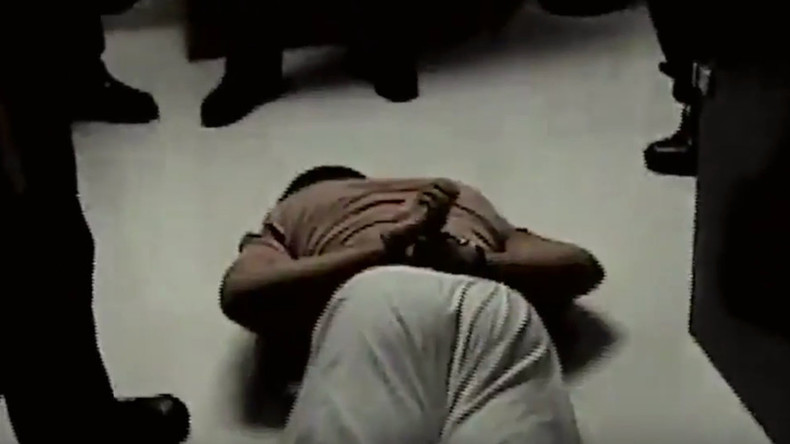 In 2010, a schizophrenic inmate at a New York prison was violently beaten by prison guards, dying shortly after. Prison staff did little to resuscitate him, a video of the events show, prompting watchdog agencies to allege overreaction and negligence.
Leonard Strickland was a schizophrenic prisoner from New York City held at the Clinton Correctional Center in Dannemora, New York, near the Canadian border, after he was convicted of criminal possession of a weapon, the New York Times wrote of the case. Strickland had no record of serious disciplinary problems at Clinton during the four and a half years he was there, state records indicated.
Though "scores of brutality lawsuits" have been filed against Clinton officers in recent years, according to the New York Times, state and local officials said they could not remember the last time a Clinton guard was charged with excessive force.
On October 3, 2010, Strickland, 44, got involved in a disagreement with a prison guard following breakfast. From there, inmate and prison staff accounts of Strickland's demise do not match up. Guards said in November during a court trial – triggered by a lawsuit filed by the Strickland family – that an aggressive Strickland tussled with a guard who was particularly notorious among inmates, leading to a fall down a flight of concrete stairs. At the bottom, guards said Strickland jumped to his feet and fought with another officer before nearly two dozen officers surrounded Strickland.
The inmate "struggled violently," one officer said during trial, as several guards pinned and subdued Strickland. Officers punched and beat Strickland with batons to get him to relent, they said. Strickland had no visible injuries, nor did he complain of any pain, they added.
Read more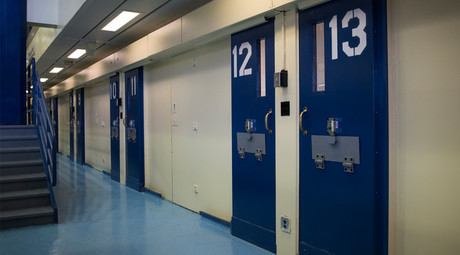 Inmate witnesses, on the other hand, separately told the Times the same basic story, differing from the account given by prison officers. Strickland was shoved down the stairs, they said, and was badly hurt after the fall, as he had hit his head against the concrete numerous times on the way down. Strickland was then beaten by the responding guards and dragged away screaming. They "beat this kid to zero," one witness said.
Strickland was then taken to the prison emergency room. Officers said he resisted their orders and kicked them in the process before Strickland was taken to the prison mental health ward.
Yet a 45-minute security video taken by a prison staff member showed a different account than officers' gave, one that was criticized at length by both the State Commission of Correction and the Commission on Quality Care and Advocacy for Persons With Disabilities. The watchdog agencies said the video – revealed after the NYT petitioned the court to release it amid the Strickland family's lawsuit – indicates several misleading or false statements were made by officers when they recounted Strickland's handling the day he died.
"Strickland did not resist the officers, nor was he out of control," the quality care commission report said.
The video begins with a handcuffed Strickland struggling to stay on his feet in the prison emergency room. He falls to the floor, as officers insist he is resisting to their orders. Minutes later, Strickland is given an injection as officers decide to move him to the prison mental health ward on a different floor. Strickland, still handcuffed, is dragged to the elevator, his arms hyperextended behind his head. Exiting the elevator on the prison's third floor, officers again drag Strickland facedown along the hallway, where he is left on the ground for two minutes as several staff members step over him.
Staff can then be seen in the video asking each other if Strickland was still breathing. For the next 35 minutes, nurses and officers sporadically attempt to provide Strickland with CPR, all while the inmate was unconscious and handcuffed, obstructing effective CPR application.
A report by the State Commission of Correction said Robert Fitzgerald, the prison nurse, "showed complete disregard of the obvious signs of a nonresponsive inmate." In fact, Fitzgerald is seen in the video doing nothing as Strickland struggled in the emergency room and was dragged to the elevator. Fitzgerald claimed officers did not give him permission to treat Strickland, as the inmate was considered a security risk, a claim a top prison guard denied in court.
Strickland was in handcuffs for 30 minutes after Fitzgerald first noticed he wasn't breathing before the prison nurse finally suggested the cuffs be removed, the NYT reported. Strickland was then loaded into an ambulance – the point when the video was stopped – and taken to a nearby hospital, where he was pronounced dead five minutes after arrival.
Read more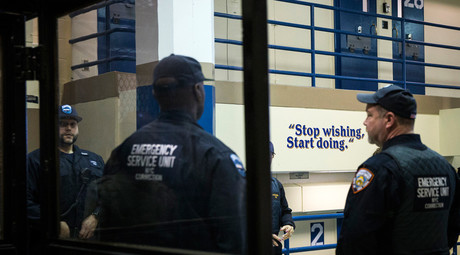 Given the autopsy results, Strickland died when his heart stopped from "stress induced by the altercation," said a physician who testified at the trial. The county coroner ruled the cause of death was cardiorespiratory arrest due to cardiac ischemia, or a lack of oxygen to the heart.
Meanwhile, no one at the Clinton prison, site of many complaints of guard brutality and a tense racial climate, was punished. New York State Police said "that no criminal conduct of others contributed" to Strickland's death. The Clinton County district attorney did not take the case to a grand jury. The state agency responsible for overseeing medical professions did nothing, as well. All prison guards and staff involved still work for the Clinton prison or another state-run prison or have retired with full pensions.
The civil court case over Strickland's death may take a judge a year to decide, if the parties do not settle beforehand, the Times reported.
The NYT's report is the latest in a series of stories released in the last year highlighting"a troubling pattern of savage beatings by corrections officers at prisons across New York State and a department that rarely holds anyone accountable."