'Homicide': Inmate death at New York state prison shows disturbing brutality trend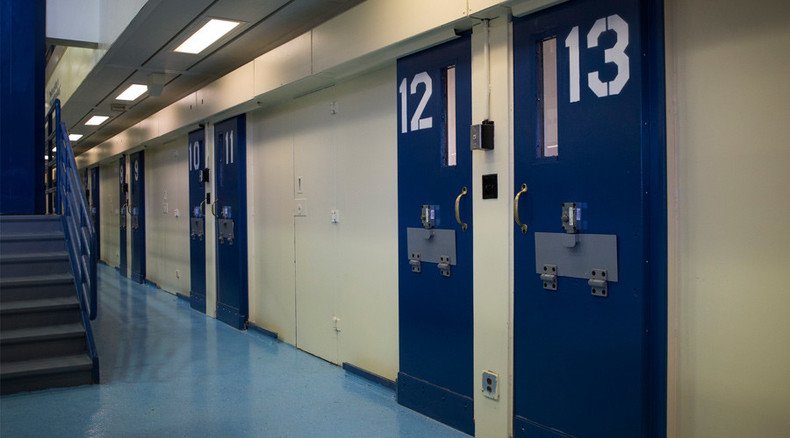 Guards at Fishkill state prison beat a bipolar black inmate to death, then tried to intimidate witnesses into silence, several prisoners say. Inmates at other state prisons, such as Rikers Island and Clinton, also accuse guards of abuses and even torture.
Nineteen inmates from the Fishkill Correctional Facility have submitted letters and affidavits about the incident to the law firm representing the family of Samuel 'JRock' Harrell, 30, who died on April 21 after getting repeatedly punched and kicked by the guards, according to New York Times reporters who investigated the story. Only three inmates agreed to be identified by name; others have requested anonymity, fearing retribution from the guards.
The witnesses say Harrell told two correctional officers that his family was coming to pick him up and take him home. When the officers called for backup, Harrell panicked and ran. He was tackled, handcuffed, beaten and kicked by as many as 20 officers. Some of them reportedly shouted racial slurs; Harrell was black.
"I saw the officers kicking him, jumping on his head multiple times and screaming, 'Stop resisting,' even though I didn't see him moving," wrote Edwin Pearson, an inmate who watched from a nearby bathroom. "Like he was a trampoline, they were jumping on him." Pearson was serving two years on a weapons charge and has since been released.
Witnesses say Harrell was then reportedly wrapped in a sheet and thrown down a stairwell. Records show that guards told the ambulance crew nothing about the violence, but claimed that Harrell overdosed on synthetic marijuana, known as K2. The autopsy report by the Orange County medical examiner, however, shows no illegal drugs in Harrell's system, only antidepressants and tobacco. The report says Harrell died of cardiac arrhythmia, "following physical altercation with corrections officers," and ruled his death a homicide.
Several inmates have claimed that a group of "rogue officers" at Fishkill have been singling out inmates for beatings and abuse. Five weeks before Harrell's death, one inmate filed a complaint with the prison management, asking them to split up the "beat-up squad" into different shifts.
When the correctional officers in your prison earn the nickname "The Beat Up Squad" something is seriously wrong. http://t.co/G2kBH2WpvC

— Victor LaValle (@victorlavalle) August 18, 2015
James Miller, a spokesman for the New York State Correctional Officers & Police Benevolent Association, a union representing prison guards, told the New York Times that Harrell was "acting violently and appeared delusional as a result of apparently ingesting drugs." While attempting to subdue him, one of the guards suffered several broken ribs, Miller said. Inmate witnesses confirm seeing one of the guards gasping for air and clutching his chest, before stepping away.
The union was "reviewing all the facts before rushing to judgment," Miller added in a follow-up email. "Rather than simply relying on allegations made by a handful of violent convicted felons, we will continue to work with our partners in law enforcement to ensure a resolution to this tragic incident."
Fishkill, a medium-security prison about 60 miles north of New York City, is not the only prison in the US, or even the state of New York, where inmates have claimed violent abuses by the guards, though. Correctional facilities across the country are struggling with scandals concerning the treatment of inmates with mental illness, overcrowding, violence, suicides and other forms of abuse.
In June, two convicted murderers escaped from the Clinton Correctional Facility, a maximum-security prison in New York near the Canadian border. They were aided by at least one guard, who admitted providing the power tools used in the escape. Nine other guards were suspended, and the prison leadership resigned. The authorities caught up with the fugitives after a three-week manhunt, killing one and recapturing the other. Though no inmates were implicated in the escape, they reported beatings, loss of prison privileges, solitary confinement and even threats of torture in the ensuing weeks.
READ MORE: 'Zero tolerance: US prison staff must be held accountable for abuses'

The Rikers Island prison in New York City has been in the spotlight lately over abuses of inmates by the guards. One senior corrections officer was recently convicted of letting a mentally ill prisoner die in solitary, choking on toxic detergent. Captain Terrence Pendergrass, 51, was sentenced to five years in prison. Three more Rikers guards face charges over beating an inmate to death in 2012.
One former prisoner at Rikers who spoke out about abuses at the facility committed suicide in June. Kalief Browder spent three years in captivity, nearly two of them in solitary confinement. Security footage from inside the prison showed Browder getting beaten at least twice, once by the guards and another time by other inmates. He was never charged with a crime.
You can share this story on social media: