​Ex-Rikers Island guard jailed for 5yrs over inmate death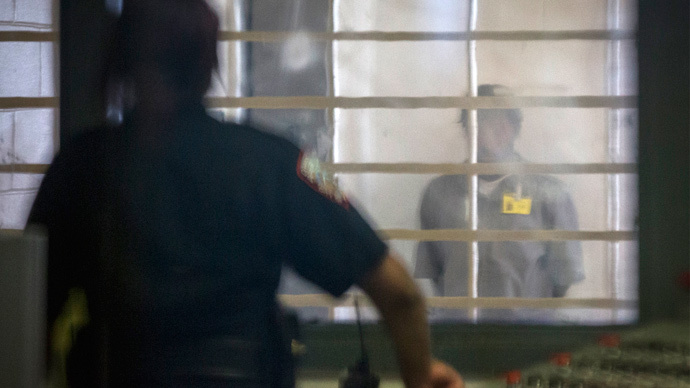 A former guard at the notorious Rikers Island jail has received a five-year prison sentence for depriving an inmate of his civil rights. The guard failed to help the prisoner after he swallowed toxic detergent.
According to court papers, former Department of Correction Capt. Terrence Pendergrass was told by other correction officers that inmate Jason Echevarria, 25, had swallowed the highly toxic detergent, known as a soap ball, while in solitary confinement in 2012.
But Pendergrass, 51, reportedly told the officers he didn't want to be bothered unless there was a "dead body" in the cell.
Later that day, a pharmacy technician expressed concern that Echevarria might die. However, the guard again refused to seek assistance. When an officer picked up the phone to call for help, the Pendergrass ordered that he hang up, prosecutors said.
READ MORE: Man jailed at Rikers Island without charges for 3 years commits suicide
Echevarria was found dead the next morning. The city medical examiner concluded that he died from ingesting the substance, and that he had internal chemical burns and scarring along his esophagus and into his trachea.
The inmate was known to be mentally ill, suffering from bipolar disorder. He was housed in the solitary unit following previous suicide attempts. Echevarria's family has filed a civil lawsuit against New York City over his death.
"A man died here, a 25-year-old man, because of your indifference and callousness," US District Judge Ronnie Abrams said as she imposed the sentence Thursday.
"Such criminal indifference will not be tolerated," she added.
The judge said the five-year sentence was meant to be a deterrent to others, so that guards understand they will be held responsible for wrongdoing. The punishment is significantly longer than the roughly two-year sentence suggested by federal guidelines.
Prosecutors had asked for a substantial punishment, saying in court papers that the former guard's crime was "particularly cruel."
READ MORE: Rape 'endemic' by Rikers Island prison officers – lawsuit
But defense attorney James G. Frankie wrote that Pendergrass had no reason to believe reports that Echevarria had swallowed the detergent, as he was not authorized to have a soap ball in the first place.
Frankie added that the claim seemed "more consistent with malingering to get out of a cell rather than a genuine call for medical assistance."
Pendergrass was found guilty in December, and was given a fine of $5,000. He was due to be sentenced on May 21, but that sentencing was delayed after he made a last-minute claim that his former attorney's representation had been insufficient.
The former guard was told he could report to prison on August 18, as he has reliably shown up for all court appearances.
The sentencing comes just one week after three Riker's Island prison workers were arrested and charged over the death of another inmate. According to the Department of Justice Ronald Spear died from being brutally beaten, and that prison personnel then tried to cover it up.
READ MORE: NYC mayor to shrink Rikers prison population by 25%
Located in New York City, Riker's Island has been cast in the spotlight following reports of widespread abuse and corruption. Three days ago, RT covered the story of Carlos Montero, who was arrested and taken to Rikers Island when he was 17. Seven years later, he's still locked up awaiting trial.
In August 2014, the US attorney's office for the Southern District of New York released areportdescribing a "deep-seated culture of violence" against adolescents at the facility.
One month prior, an investigation was published by The New York Times which detailed 129 cases of inmates who were seriously injured in altercations with correction officers in 2013. It showed that mentally ill inmates bore the brunt of that violence.
Riker's Island is the nation's second-largest jail system, housing around 11,000 inmates in 10 facilities.