NY prison inmates suffered beatings, retaliation after historic escape – report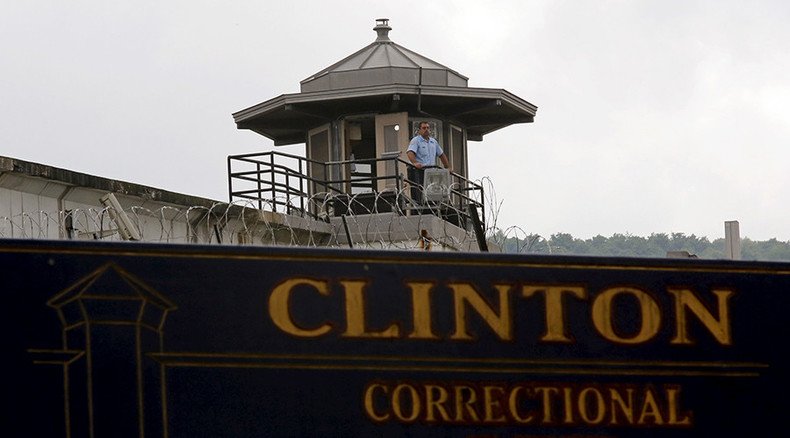 After two inmates escaped from Clinton Correctional Facility, those who stayed endured a "campaign of retribution" by correctional officers, with dozens reporting secret beatings and other abuses, according to a New York Times report.
Richard Matt and David Sweat, convicted killers who shared a cell in the maximum security prison in New York, broke free on June 6. Their escape triggered a massive manhunt, which resulted in Matt killed and Sweat injured and captured three weeks later.
Prison worker Joyce Mitchell was arrested and pled guilty to providing the tools that allowed Matt and Sweat to cut through their cell wall and get away. Another faces criminal charges over contraband while nine officers have been suspended and the leadership of the prison has been removed in the wake of the escape.
READ MORE: 64 tied bed sheets: NY jail uncovers daring escape plot
But in the days after Matt and Sweat left the facility it was their fellow inmates who suffered at the hands of correctional officers, the New York Times reported. Dozens reported being handcuffed and beaten by officers demanding information about the escape.
One prisoner, Patrick Alexander, was handcuffed and taken to a broom closet, where three corrections officers he didn't know interrogated him, he told NYT.
"The officer jumps up and grabs me by my throat, lifts me out of the chair, slams my head into the pipe along the wall," he said. "Then he starts punching me in the face. The other two get up and start hitting me also in the ribs and stomach."
When he repeatedly denied having any information, the officer conducting the interrogation threatened to waterboard him, he said.
Victor Aponte worked in the prison tailor shop, where Matt also had a job. He described undergoing a similar interrogation, saying one guard tied a plastic bag around his neck and used it as a hanging noose.
"I don't know how long he hung me up like that because I passed out," he wrote in a letter.
Several inmates were denied medical care after the interrogations and were later bullied out of reporting how they sustained their injuries, the report said.
Clinton inmates were also subjected to harsh reprisals by the authorities. Dozens were transferred from the privileged "honor block" of the Clinton Correctional, where Matt and Sweat lived, to solitary confinement or other prisons. Others were stripped of privileges that they had earned by years of good behavior. Unlike prison staff, no inmate was found linked to the escape, the newspaper commented.
Over 60 inmates have filed complaints with Prisoners' Legal Services of New York, an organization that assists prisoners, the newspaper said. A letter making similar allegations was sent last month to state corrections officials by an inmate council at the facility.
The state corrections department launched an investigation into the allegations, pledging that "any findings of misconduct or abuse against inmates will be punished to the full extent of the law."
You can share this story on social media: