Inmate deaths rise for 3rd year in a row as jail suicides spike – report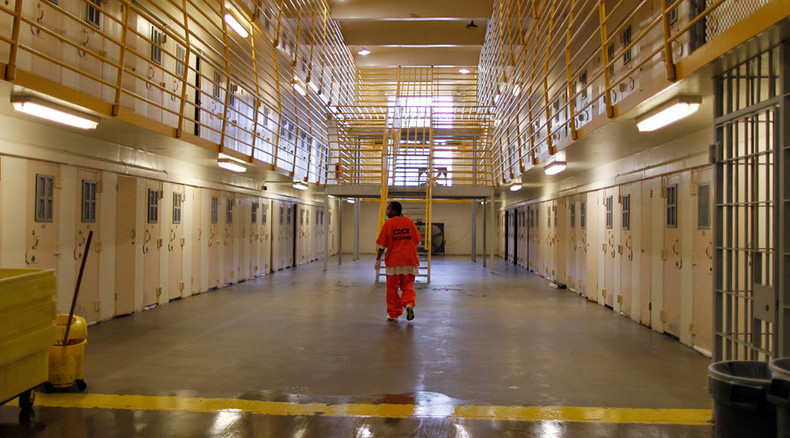 The number of inmates dying in police custody has risen for the third year in a row, the Justice Department stated in a new report, in part due to a significant spike in suicides at local jails.
In both local and state prisons, 4,446 inmates died while in custody over the course of 2013, according to a report compiled by the US Bureau of Justice Statistics. That number is 131 deaths higher than in 2012, which itself saw more deaths in police custody than the one prior.
Local jails also saw an increase in this category, as 967 inmates died in 2013 compared to 958 in 2012, an increase of one percent.
Most concerning for local jails, though, is the fact that suicides remained the leading cause of death, increasing nine percent even though the total prisoner population fell by four percent. The number of suicides increased from 300 in 2012 to 327 in 2013, accounting for 34 percent of all jail deaths.
Notably, suicides have been the leading cause of death at local jails since the year 2000.
In general, the overall increase in prisoner deaths was attributed to a rising number of fatalities via suicide, accidents, and drug and alcohol intoxication. Illness-related deaths still composed the vast majority of deaths, accounting for 89 percent of the total.
Speaking with PBS, Lindsay Hayes of the National Center on Institutions and Alternatives said that suicides could be influenced by the fact that those arrested for the first time are unprepared for the isolation they experience in jail. She said they also battle fears associated with their future, which is up in the air while they're in custody.
"People incarcerated for the first time have a lot of racing thoughts on a lot of different things. The longer you're there without any kind of contact … the more despondent you get," Hayes said.
Interestingly, while every state department of corrections reported at least one death in 2013, the vast majority of local jails – 80 percent, in fact – did not report any deaths. Twenty-three percent of all local jail deaths occurred in California and Texas alone.
READ MORE: Six African-American women found dead in jail in July
The report arrives as the public continues to debate the circumstances surrounding the death of black activist Sandra Bland, who was found hanging in a Texas jail cell just three days after being arrested for a traffic violating. Authorities said she committed suicide, but Bland's family disputes the conclusion. An autopsy of Bland's body showed that there was no evidence of violent homicide.
Shortly after this incident came to light, it was reported that six African-American women were found dead in custody in July, including Bland. Most of the deceased women had been in jail for no more than two days and held for minor charges. Their deaths are all under investigation.
One death, that of 44-year-old Raynetta Turner in Mt. Vernon, New York, is currently being investigated by a special prosecutor. Turner was arrested for shoplifting on a Saturday and, after visiting a hospital for various health issues, was found unresponsive in her cell on Monday.