2 young dopes with 20 pounds of weed get so paranoid they call cops on themselves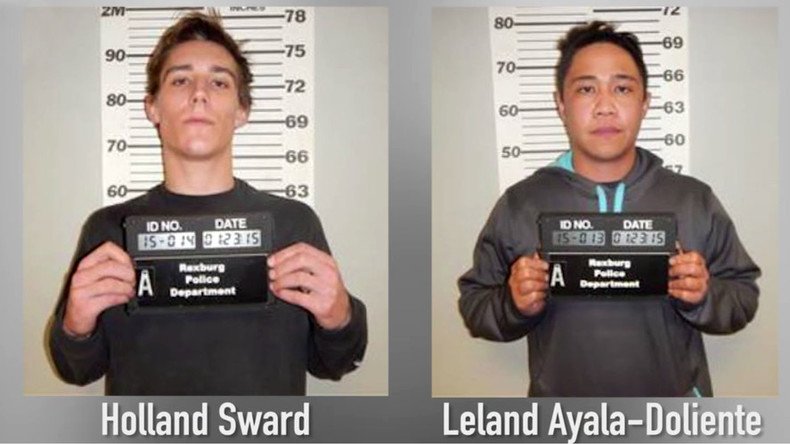 Two men traveling from Nevada to Montana with over 20 pounds of marijuana got so incredibly stoned they handed themselves over to police in a bout of paranoia. The resulting recording obtained by East Idaho News had YouTubers in stitches.
The men – Leland Ayala-Doliente, 22, and Holland Sward, 23 – were driving across the Nevada-Idaho border almost exactly a year ago when fear struck so deep it completely paralyzed their ability to reason.
The following police call might be really bad publicity for marijuana, as things like this rarely happen outside of movies. The two decided they were being followed by undercover police after crossing over the border. They saw cars everywhere that they thought were being driven by cops just itching to bust them but were keeping their distance for some inexplicable reason.
And so, the two pulled over after exiting a highway in Rexburg. Parked at a gas station, they made a 911 call that will go down in history:
"Hi, uh, we're the two dumb asses that got caught trying to bring some stuff through your border and all your cops are just driving around us like a bunch of jack wagons and I'd just like for you guys to end it. If you could help me out with that, we would like to just get on with it," Ayala-Doliente told a puzzled dispatcher, who then had to collect his thoughts.
"You got caught doing what…?" the 911 dispatcher asks. They confess again that they got "spooked" trying to bring "some stuff" over the border. "And, yeah. A bunch of your buddies driving around in a bunch of civilian cars not wanting to pick us up. I don't know what's the deal. I was just wondering if you could help us out and just end it," the young man continued.
They gave the police the address of the gas station, said that they weren't carrying firearms and only had munchies for the road and a dog, which they were bringing back to its owner. The dispatcher listened patiently, taking down the details – even playing along a bit, probably realizing the state the two young potheads were in: the officer asked them about the guns, because the 'undercover cops' were "just curious."
"Yeah, yeah. We tried walking away from the car a couple times and that didn't work. We tried waving them down and that didn't work, so I don't know what's going on here," Ayala-Doliente continued.
The dispatcher then promised to send one of his nearby marked units to pick the pair up.
And the young stoners were real role models for how to get arrested without incident. Police say that on arrival the pair of dopeheads were up with their hands behind their heads. Sward was then said to address an officer with the words "We got caught and we're surrendering."
A hearing resulted in the following outcome: Sward got five years, amended to 30 days in jail for being a good sport; but Ayala-Doliente learned the hard way not to smoke weed, snort cocaine or swallow oxycodone hours before sentencing day: having tested positive for all of these things, he got one-and-a-half to eight years in prison.
This is not the first time marijuana has driven someone to stupidity, but YouTube comments ranged from quoting cult movies about weed to being happy for the dispatcher – for having had the once-in-a-lifetime opportunity to bring in "the stupidest person you've ever talked to."
Others were more serious, however, reminding people that the Mormon-run Idaho is really intolerant of marijuana, and was therefore likely to charge the guys as much as it would have if they had got caught without handing themselves in.
You can share this story on social media: