Two US Navy boats in Iranian custody - Pentagon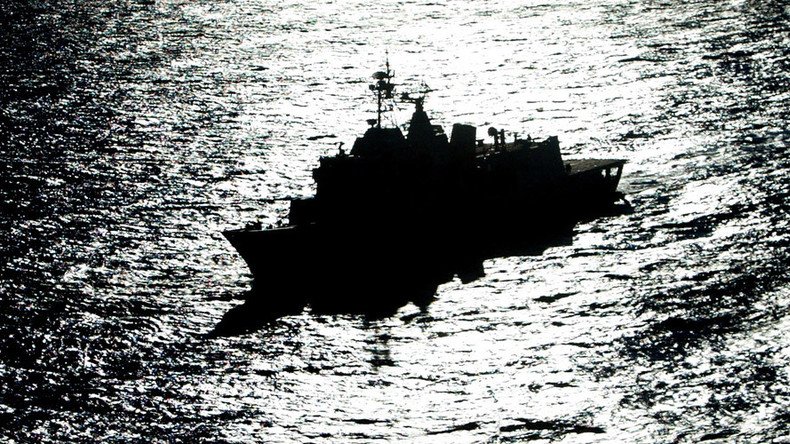 Two small US crafts in the Persian Gulf were taken in custody by Iran after they appeared in Iranian waters. The crews are to be released shortly, according to various US officials.
"We have been in contact with Iran and have received assurances that the crew and the vessels will be returned promptly," Pentagon spokesman Peter Cook told AP.
The crews, which total 10 Navy sailors, are being held at Farsi Island, a highly restricted island between Bahrain and Kuwait, where Iran has a naval base. US officials are saying it is unclear how the crew members ended up in Iranian waters, though Secretary of State John Kerry has kept phone contact with Iranian officials in Tehran, urging for a release. A senior official told NBC News the Iranians understand a mistake was made and have agreed to a release to come in hours.
"We're expecting them sometime around sun-up," Iranian time, an anonymous senior White House official told the Washington Post.
According to the Associated Press, an anonymous senior official says Kerry "personally engaged with" Iranian Foreign Minister Javad Zarif to work out a solution almost immediately upon hearing of the development around 12:30 pm EST.
The New York Times reports an anonymous official says the two boats apparently grounded when one of them suffered a mechanical breakdown.
Iranian news agency Fars reported the vessels were more than a mile inside Iran's waters near Farsi Island when they were detained. The Islamic Revolutionary Guards Navy then collected the sailors' GPS system, Fars reported, quoting the IRGN as saying it would "prove that the American ships where 'snooping' around in Iranian waters."
CNN reports that Fars also reported the American boats were equipped with three, 50-caliber machine guns.
Benjamin J. Rhodes, the deputy national security adviser, gave no details beyond telling The Times, "We are working to resolve the situation such that, obviously, any U.S. personnel are returned to their normal deployment."
Josh Earnest, the White House spokesperson, said the sailors will be released "promptly" and " allowed to continue their journey."
The Iranian Revolutionary Guard has released a statement saying the sailors are "safe and well," but has not provided a timeline for their release.
Update - Reuters: U.S. officials say 10 U.S. Navy sailors being held by #Iran are unlikely to be released overnight

— Sky News Newsdesk (@SkyNewsBreak) January 12, 2016
The international incident comes on the day President Obama will give his final State of the Union speech of his tenure. Obama's political opponents are capitalizing on the timing.
Senator Tom Cotton (R-Arkansas) told CNN, "senior members of Barack Obama's administration are apologizing for Iran seizing two US Navy vessels and holding 10 sailors hostage. The White House tonight is a hot bed of cold feet."
Presidential candidates Dr. Ben Carson and Jeb Bush have taken to Twitter to criticize Obama's reaction. Bush called for "no more bargaining" and an immediate return home for the sailors, whereas Carson took a shot at Obama's "preparing to talk about his so called 'accomplishments'" in reference to tonight's national address.
If our sailors aren't coming home yet, they need to be now. No more bargaining. Obama's humiliatingly weak Iran policy is exposed again.

— Jeb Bush (@JebBush) January 12, 2016
"If our sailors aren't coming home yet, they need to be now. No more bargaining. Obama's humiliatingly weak Iran policy is exposed again," Bush tweeted.
BREAKING: While POTUS is preparing to talk about his so called "accomplishments", 10 of our American sailors are being held by #Iran.

— Dr. Ben Carson (@RealBenCarson) January 12, 2016
When asked if Obama would still mention the Iran nuclear deal in tonight's State of the Union, White House Communications Director Jen Psaki told CNN, "Absolutely."
"We've always said there are still concerns we have with Iran. They are still a state sponsor of terror, they are still holding American citizens," Psaki said.
This incident follows recent problematic episodes for the two countries as the US prepares to lift sanctions on Iran as an international agreement to curtail its civilian nuclear program is implemented.
Last week, Russian ships took out 25,000 pounds of low-enriched uranium as part of the nuclear deal.
Last month, the US condemned Iran for conducting tests of its international ballistic missile system in the Straigt of Hormuz, saying the USS Harry S. Truman aircraft carrier and USS Bulkeley destroyer ships were in proximity. On Saturday, the Navy released video of the December 26 test.
9 men, 1 women; US officials still contacting to free 2 US ships, crew seized by IRGC after entering Iran's waters: Fars

— Sobhan Hassanvand (@Hassanvand) January 12, 2016
A tweet from Sobhan Hassanvand, an Iranian reporter, cites the Iranian Fars News Agency as reporting the 10 detained sailors as including nine men and one woman.
You can share this story on social media: