Iran days from disabling Arak reactor core, paving way for lifting of sanctions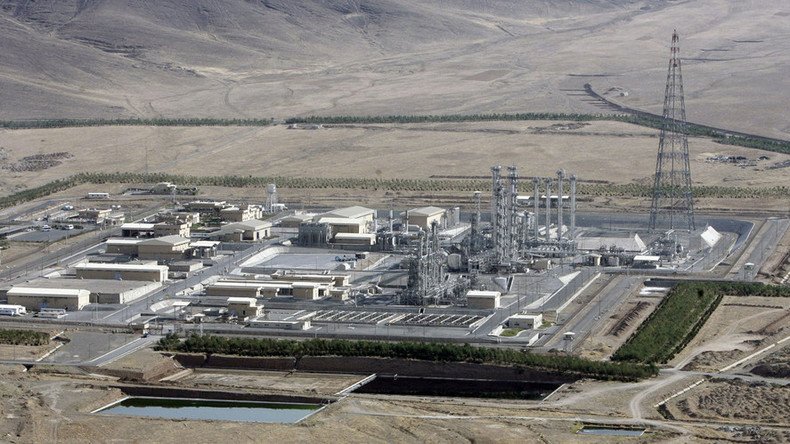 Conflicting reports come from Iran, as it moves to fulfil its obligation to disable the Arak heavy water nuclear reactor - the last major condition for the lifting of sanctions under a controversial international deal signed last year.
The fate of the Arak reactor, which could be used to produce plutonium, was one of the largest stumbling blocks for the agreement signed in July. Tehran agreed to retrofit the facility so that it could be used for advanced nuclear research and production of radioactive isotopes, while leading foreign powers pledged to provide technical help for the endeavor.
Iran's Atomic Energy Organization spokesman Behrouz Kamalvandi told the Etemad newspaper that Arak would be disabled and the nuclear deal fully implemented in no more than seven days.
When the interview was published on Monday, semi-official news agency Fars said the core of the reactor has been removed and filled with cement to disable it. The agency cited an informed source.
But a conflicting report emerged from state news agency IRNA later in the day, which said the reactor was still functional, though some preparatory steps toward disabling it had been taken. IRNA quoted an unnamed senior official at the national nuclear agency, who said the reactor core would be removed in a matter of days.
Meanwhile on Tuesday, Iran's deputy nuclear chief Ali Asghar Zarean denied reports that technicians have dismantled the core. In comments made on state TV he said that Iran will first sign an agreement with China to modify the site. The deal is expected no earlier than next week.
"Definitely, we will not apply any physical change in this field until a final agreement is finalized," Zarean added.
Separately, EU foreign policy chief Federica Mogherini said nuclear-related sanctions may be lifted from Iran soon.
"I can tell you that my expectation is that this day could come rather soon. The implementation of the agreements is proceeding well," she said during a visit to Prague.
Under the nuclear deal between Iran and the P5+1 group comprised of China, France, Russia, the UK, the US and Germany, Tehran agreed to reduce its number of uranium enrichment centrifuges, limit stockpiles of nuclear fuel, retrofit the Arak reactor and submit its program to UN inspections. In exchange the US, EU and UN are to lift all nuclear-related sanctions.
The implementation of the deal is expected to push oil prices further down, as Iranian crude returns to the global market and Tehran tries to take back the share it had before the sanctions were imposed. The price of crude is at a decade-low, approaching US$30 per barrel on Tuesday.
You can share this story on social media: