Bernie gains double-digit lead on Hillary in New Hampshire – poll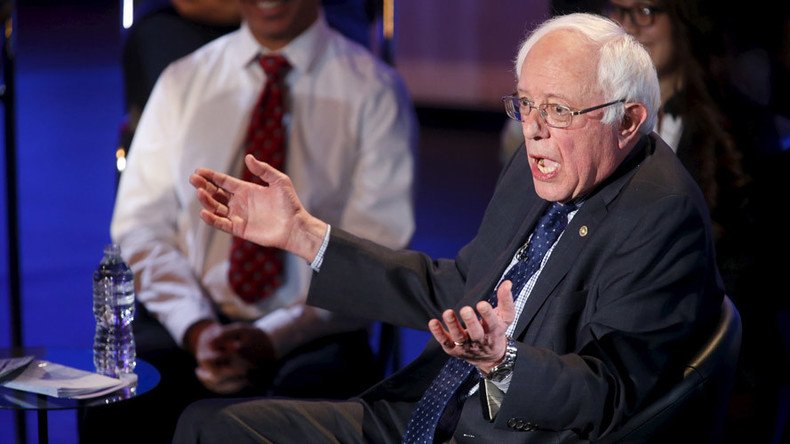 Bernie Sanders now leads fellow Democratic presidential hopeful Hillary Clinton by 14 points, a poll shows, less than a month before the nation's first primary. The Vermont senator also received a critical endorsement from the grassroots group MoveOn.org.
Over half ‒ 53 percent ‒ of New Hampshire voters support Senator Bernie Sanders (I-Vermont), while Clinton sits at a mere 39 percent, a Monmouth University Poll released Tuesday found. It shows Clinton now trailing Sanders in the Granite State's major voting blocs who previously supported her, such as registered Democrats, older voters and women. The support of these demographics gave Clinton the lead in the same poll in November, with 48 supporting her and 45 supporting Sanders.
New Hampshire, being the second state to vote in the Democratic nomination process, is considered to be a critical state to win to give a candidate momentum heading into the remainder of the caucus and primary season.
Sanders has 58 percent support among voters under the age of 50, compared to Clinton, who sits at 30 percent.
With women, the insurgent senator garnered 50 percent support, compared to Clinton's 44 percent. Women have been considered an important bloc for the former secretary of state; in November, Clinton led Sanders among by nearly 20 points among the demographic.
Other New Hampshire polls, however, show the two candidates neck-and-neck with each other. The RealClearPolitics average of polls shows Sanders leading Clinton by 6.2 points in the state.
The bad news for Clinton is that later polls are more reliable, due to the solidification of support over time. A majority of New Hampshire voters, 52 percent, said that they have finalized their decision, up from 35 percent in November, when Clinton had the lead.
"New Hampshire Democratic preferences are getting baked in, with Sanders gaining the upper hand," said Monmouth University polling director Patrick Murray, according to The Hill. "The final question will be who does a better job at turning out their respective voting blocs."
In New Hampshire, unregistered voters may participate in either the Republican or Democratic primary, but registered voters in one party cannot vote in the other party's primary. Among registered Democrats, Sanders has 50 percent support and Clinton has 52 percent support, compared to two months ago when Clinton led Sanders 57-35 percent among the same demographic.
READ MORE: Bernie bucks: Sanders smashes Obama record with $33mn from individual donors
Sanders, a self-described democratic socialist, also boasts an impressive lead of 58 percent to Clinton's mere 34 percent among independent voters who say they are likely vote in the Democratic primary.
The Monmouth University Poll was conducted by telephone from January 7 to 10 with 413 New Hampshire residents who said that they are likely to vote in the Democratic presidential primary. The sample has a margin of error of 4.8 percent.
On Tuesday, Sanders received the critical endorsement of MoveOn.org, a prominent grassroots organization that champions progressive policies. The advocacy group said that 78.6 percent of its members supported the Vermont senator, according to an online poll of more than 340,000 participants. Clinton received just 14.6 percent of the vote.

"MoveOn members are feeling the Bern," said Ilya Sheyman, executive director of MoveOn.org Political Action, according to AP. "We will mobilize aggressively to add our collective people power to the growing movement behind the Sanders campaign, starting with a focus on voter turnout in Iowa and New Hampshire."
Clinton's lead on Sanders has narrowed in other early voting states besides New Hampshire. In Iowa ‒ where the state's caucuses kick off the nominating process and is thus considered critical for candidates to win ‒ Sanders garners the support of 49 percent of likely Democratic primary voters, with Clinton winning 44 percent, according to a Quinnipiac Poll.
You can share this story on social media: