Feel the Bern: Presidential candidate Sanders scoops TIME Person of the Year readers' poll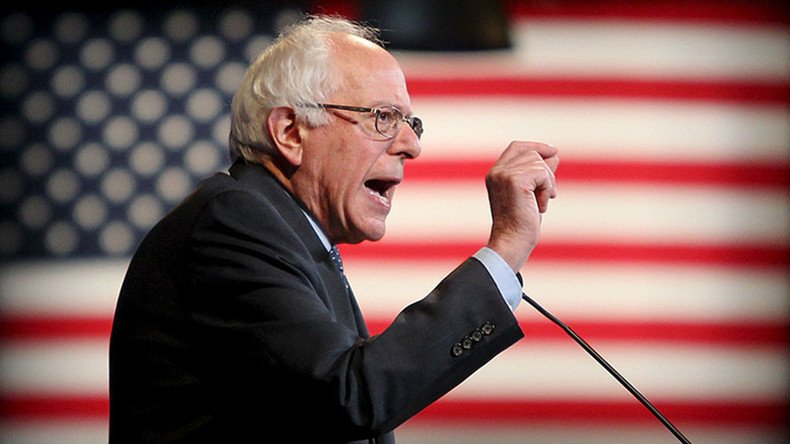 Democratic presidential candidate Bernie Sanders has received a vote of confidence with the primary race in full swing. He has won an online readers' poll for the TIME Person of the Year, coming streets ahead of Hillary Clinton and Barack Obama.
The Senator for Vermont managed to garner 10 percent of all the votes, a figure that put him way ahead of second-placed Malala Yousafzai with 5.2 percent, who after being shot by the Taliban in Pakistan, became an education activist.
Sanders also proved way more popular that Obama (3.5 percent), his rival for the Democratic Party's nomination Hillary Clinton (1.4 percent) and Republican Donald Trump (1.8 percent).
Russian President Vladimir Putin (2.1 percent) also made the list, as did German Chancellor Angela Merkel (2.4 percent). However, beating both of the leaders was the collective vote for "refugees," who won a total of 3 percent.
An advocate of gun control, Sanders has also been critical of current and previous US foreign policy.
"I don't think any sensible person would disagree that the invasion of Iraq led to the massive instability we're seeing right now," Sanders said, as the Democrat presidential nomination contenders met for their second debate in Des Moines, Iowa, on November 14.
READ MORE: Indie democratic-socialist Sanders would beat Trump, Bush by landslide - poll
A recent poll by Reuters showed that Clinton is still leading the Democrat race, but Sanders is continuing to gain ground and the results showed he had made a 13 percent swing to move within 13 percent of Clinton.
Sanders, a self-described socialist, is firmly on the left of the Democratic Party. He has gained support for his down-to-earth qualities that look relatable compared to the perceived excesses of a Clinton or Trump campaign.
Sanders is one of the least wealthy presidential candidates, making $205,000 in 2014. Hillary Clinton and her husband, former President Bill Clinton, have together made about $140 million in the past eight years, according to Reuters.
No presidential candidate has ever been named TIME Person of the Year before their campaign has ended. A team of editors from the publication will decide the magazine's own choice for TIME Person the Year for 2015, with the result being announced Wednesday.
You can share this story on social media: