Gold, frankincense, and 'Murica: US gun sales up for Christmas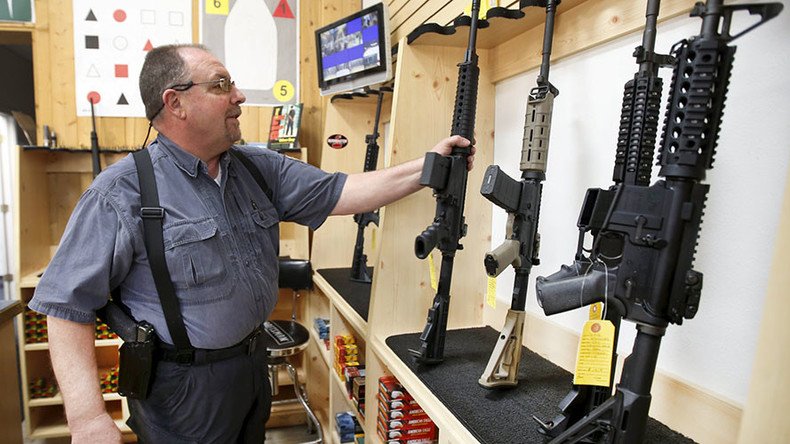 It's the holiday season of 2015, and a gun-obsessed populous spooked by an increasing number of mass shootings needs the perfect Christmas gift. According to local gun stores in the US, it's a good time to be in the firearm business.
The holiday shopping season unofficially kicks off the day after Thanksgiving, known as Black Friday. On Black Friday this year, a total of 185,345 instant background checks were completed by the FBI, believed to be a new one-day record. That broke the previous record set on December 21, 2012, days after the Sandy Hook Elementary massacre, when 177,170 checks were processed by the FBI's National Instant Criminal Background Check system days ahead of Christmas. Background checks are the most reliable indicator of the gun industry's health.
In the weeks following Black Friday 2015, gun store owners across the US have anecdotally reported a boon in sales, as the holiday season has coincided with high-profile attacks in Paris, Colorado, and San Bernardino, California.
"The knee jerk reaction of politicians is immediately after an event like [San Bernadino] to take advantage of it for political goals and will try to restrict the rights of law-abiding gun owners," Sam Paredes, spokesman for Gun Owners of America, told ABC. "So there is a natural rush to gun stores to purchase guns and ammunition."
In 2015, there have been well over 300 mass shooting incidents, defined as a single event in which four or more people are shot or killed, not including the shooter, according to the Gun Violence Archive. The mass shooting epidemic in the US seems to have only improved firearm sales, as shown by the record-breaking Black Friday background check total.
Recent local news reports across the US have featured healthy gun sales at local shops in states such as California, Florida, Virginia, Ohio, Indiana, Tennessee, Massachusetts, New Mexico, Arkansas, Oregon, and Arizona.
Sales are also fueled by the perception that President Barack Obama will act on his stated desire for more federal gun control policy in the face of a highly-resistant Congress.
"Whenever you have an incident like we had in San Bernardino, the terrorist attack there, makes people concerned and feel like they might need something else to protect themselves," Eddie Monk, owner of TheOutpost Gun Shop in Jackson County, Florida, told WJHG.
"The other thing that goes along with that is the president has said he's fixin' to enact gun control. People are afraid that some of the guns that they may want may not be available or may be available at a higher price in the future."
Monk said WJHG that handguns and AR-15 semi-automatic rifles are the most popular firearms at his shop.
Tim Tomich, of Tim's Shooting Academy in Westfield, Indiana, told WXIN that his store's gun sales increase after every major shooting incident in the US.
"The number of guns to be sold for the holidays are going to be relatively constant, but I think the increase in gun sales would be the uptick of the concern that people have out there right now," he said.
Shop owners say fear of being caught up in a mass shooting is a driver for consumers shopping this holiday season.
"More and more people are thinking that when I'm out in public, maybe I should have something to defend myself," said Diane Donnett, owner of Stonewall Ltd. Semi Arms Inc. in Broadview Heights, Ohio, according to WJW-TV.
Other shop owners are reporting a spike in first-time gun purchases.
"I've see an explosion," said Tomich, in Indiana. "I've seen a lot of people coming in, purchasing guns for the first time. People you never thought would own a gun."
It's not only men seeking out firearms. Local shops report that women are increasingly purchasing and receiving weapons.
"A lot of women are lining up for our safety courses which is good to see because the industry has been unfortunately male dominated," said Michael Meunier of Guns Inc. in Massachusetts.
Louis Cole, a shopper at Adventure Outdoors in Smyrna, Georgia, told NBC's Today that he was there looking for a gun to give his wife.
"Like any good husband, I asked for the list of Christmas items that you'd like to have and one of the items was a firearm,'' Cole said. "Above jewelry was a firearm."
In November, the FBI ran more than 2.2 million gun background checks on buyers, a 24-percent increase from November 2014, according to WCYB.
You can share this story on social media: