Taliban attacks in Afghanistan spike in 2015, ISIS growing stronger – Pentagon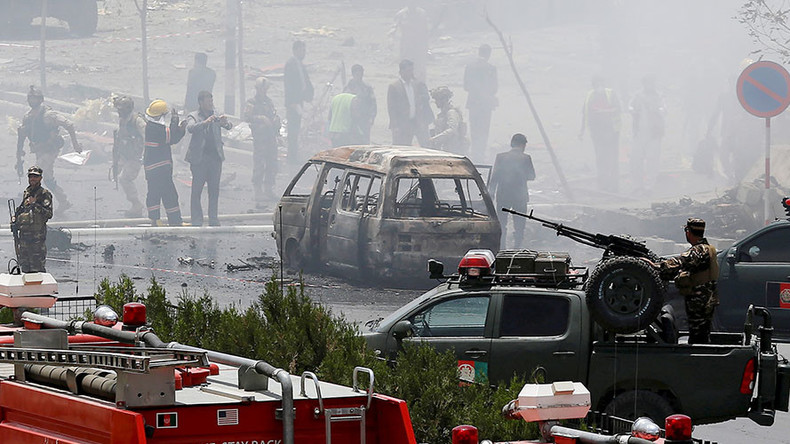 Afghanistan's security deteriorated in the second half of 2015, with an increasing number of Taliban attacks and higher casualties among Afghan forces, according to a Pentagon report. The document also says Islamic State is becoming a greater threat.
"Insurgents are improving in their ability to find and exploit [Afghan forces'] vulnerabilities, making the security situation still fragile in key areas and at risk of deterioration in other places," says the document, which was presented to Congress on Tuesday.
The semiannual report goes on to state that the "Taliban have remained active in their traditional strongholds, namely in Helmand in the south and Logar and Wardak in the east, and also created a sense of instability for brief periods of time in other parts of the country, such as in Kunduz in northern Afghanistan."
The September capture of Kunduz was deemed one of the Taliban's biggest victories in 15 years, although Afghan forces backed by US aircraft and NATO soldiers were eventually able to drive the insurgents out of the city.
Although the Pentagon praised Afghan forces for regaining territory and becoming capable of staging large-scale operations, it called their overall performance "uneven and mixed."
The report mentions that casualties among Afghan national defense and security forces, or ANDSF, rose 27 percent from January 1 to November 15, compared with the same period last year.
It cites recent surveys showing public confidence among Afghans in the security forces remains high, at 70 percent, but is down from 78 percent in March.
The document also acknowledges a threat from Islamic State (IS, formerly ISIS/ISIL) in Afghanistan, noting that the militant group has seized areas from the Taliban in Nangarhar province – despite being far away from the group's strongholds in Iraq and Syria.
"The group [IS] continues to recruit disaffected Taliban and formerly Taliban-aligned fighters, most notably the Islamic Movement of Uzbekistan," the report states.
The Pentagon acknowledged steps by Afghan President Ashraf Ghani's government to address leadership challenges within the military, including moves to replace ineffective officers.
This month marks one year since the US- and NATO-led mission in Afghanistan transitioned into an Afghan-led operation.
US President Barack Obama reversed his policy on Afghanistan in October, saying he would prolong American military engagement in Afghanistan by maintaining a force of 9,800 through most of 2016.
Obama had previously aimed to withdraw all but a small force based at the US embassy in Kabul before leaving office in January 2017. The new plan will see troops drawn down to 5,500, beginning sometime in 2017.
Criticizing Obama's change of plan, Sara Founders of the International Action Centre told RT that the president is simply "passing this problem onto the next administration."
Those thoughts were echoed by political analyst Chris Bambery, who called the move a "failure for the Obama administration."
"We should remember that President Obama was first elected with a promise to withdraw American troops from Afghanistan. This announcement - American troops are likely to remain in Afghanistan when he has left the White House - so this represents a failure for the Obama administration," Bambery told RT.
US troops have fought in Afghanistan since the 2001 invasion, with more than 2,300 American soldiers losing their lives on Afghan soil.
LISTEN MORE: